2010 Outstanding Alumni Recognized
09-29-2010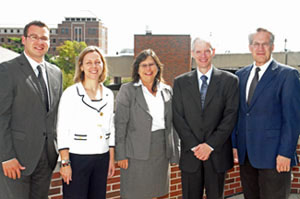 The Department of Computer Science and College of Science recognized the 2010 Computer Science Outstanding Alumni on Friday, September 24.  Alumni Cheryl Railey (BS '81), David Spellmeyer (BS '83), and Janice Zdankus (BS '85) were joined by faculty, staff and students in celebration of their great achievements.
Photo caption: Left to Right: Javier Magallanes (Director of Development), Cheryl Railey, Janice Zdankus, David Spellmeyer, and Tim Korb (Asst. Department Head)
Cheryl Railey
Cheryl Railey, VP of Program Management, IT Shared Services, Johnson and Johnson, has spent over 25 years in the business information technology field. She joined Johnson and Johnson in April 2009, and leads a global team of 100 associates deploying enterprise wide network and data center solutions to over 250 operating companies. Prior to her work at J&J, she was a partner at Accenture where she spent over 20 years managing and leading large scale application implementation and outsourcing programs in the telecommunication, high tech, and government industry sectors. She has experience in ERP system implementation, network OSS development, IT infrastructure implementation, and custom application development. She graduated from Purdue in 1981, with a bachelors in Computer Science, then completed her Masters in Business at the University of Illinois in 1983. She is married to Malcolm Railey, BSEE, MSEE, whom she shamelessly leveraged to help her with her EE circuit logic class as well as 'borrowing' his EE graduate student computer access to the CS systems to do her programs vs. having to wait in line for terminals at the Math/Science building. They married a week after graduation in 1981 at St. Thomas Aquinas – a real Purdue couple. They have three children: Kristen, a sophomore at MIT; Stuart, a high school junior; and Owen, an 8th grader. They live in Summit, New Jersey, and are active Puppy Raisers for the Seeing Eye.
David Spellmeyer
David Spellmeyer is currently Chief Technology Officer and Chief Informatics Officer of Nodality, a startup biotechnology company headquartered in South San Francisco, CA. Nodality develops highly predictive tests that help doctors provide personalized medicine for patients with cancer and autoimmune diseases. David and his group are responsible for the information systems, computational sciences, computational biology and biostatistics for the company.
David has over 30 years experience in computational modeling, pre-clinical drug discovery in biopharmaceuticals and life sciences informatics. Dr. Spellmeyer began his career at Purdue University, participating in undergraduate research activities while working towards his B.S. degree with majors in both computer science and chemistry. He continued his education at the interface of computer science and chemistry, receiving his Ph.D. in theoretical organic chemistry in 1987 from UCLA, and completed his post-doctoral work in pharmaceutical chemistry and medical informatics at UCSF. David has held many industrial positions, including as a research staff member in the IBM Almaden Services Research group, as chief scientific officer and vice president of drug discovery at Signature BioSciences and various roles at DuPont Pharmaceuticals, CombiChem, Chiron, and DuPont Merck. He continues his interaction with the UCSF research groups through his adjunct associate professorship. David has co-authored more than 35 scientific publications and frequently makes presentations at scientific seminars. In 2009, David was selected as an inaugural member of the American Chemical Society's Fellow Program, which recognizes contributions to outstanding achievements in and contributions to the science, the profession, and service to the Society.
Janice Zdankus
Janice Zdankus is vice president of Solution & Services Enablement & TCE for Hewlett-Packard's Enterprise Storage, Servers & Networking Business. Her work involves enabling the integration and release of product with services solutions. She has particular focus on building infrastructure telemetry and business analytics solutions. She and her team have led the development and introduction of HP's Insight Remote Support and is also responsible for customer experience and quality.
Previously, Zdankus was vice president, Technology Services, where she was responsible for profitable revenue growth for worldwide software support services. Zdankus also served in senior director roles in warranty planning and strategy and research and development for the diagnostics management laboratory for Business Critical Servers. Since first joining HP as a software design engineer, Zdankus has held several other senior leadership positions in marketing, customer support and business planning.
Representative of her interest in increasing the representation of minorities in the STEM fields, she serves as the HP management liaison to the board of directors of the NACME organization. She has represented HP on Purdue's CS Corporate Advisory Council for more than 10 years. Zdankus earned Bachelor degrees in Computer Science and Industrial Management from Purdue University. She also holds a Masters of Business Administration degree from Santa Clara University in California.
Last Updated: May 17, 2017 10:57 AM