Harris Corporation to Donate Video Wall and Embedded Systems Lab
08-30-2010
The Harris Corporation, an international communications and information technology company, is donating a 16-by-9 foot tiled video wall for the Commons area of the Lawson Computer Science Building. The display will be used for a variety of purposes, including presentation of special campus events, workshop and colloquium speakers, research demonstrations, news and information, and classroom materials. The system will be controlled using Harris InfoCaster software, which provides a variety of features to manage content, video sources, overlays, and special effects. It includes a software development kit (SDK) that will allow students to create specialized applications to control and interact with the display. Internet-based audio streams will be available for "silent viewing" of video content. The system, valued at $250,000, is being designed and built by the Broadcast Communications Division of Harris.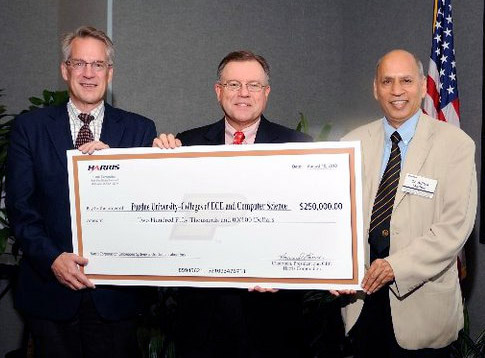 In addition, Harris has pledged $250,000 to establish the Harris Corporation Embedded Systems Instructional Laboratory in the College of Electrical and Computer Engineering. The laboratory, housed in the Electrical Engineering building, will include 20 computer stations for use in developing embedded computing systems. The lab will be used in the spring of 2011 for a course in embedded systems offered jointly by CS and ECE faculty. Professors Jan Vitek and Douglas Comer from Computer Science and Professors Anand Raghunathan and Vijay Raghunathan from Electrical and Computer Engineering are working jointly in the development of course material for the embedded systems class. This lab is important because, while embedded systems account for more than 98 percent of computers manufactured today, studies show that many people who develop embedded system have little or no formal training in this area.
The new lab will help to educate the next generation of programmers, and as Venkataramanan "Ragu" Balakrishnan, head of Electrical and Computer Engineering, says, the new lab "will enable us to develop a strong curriculum for embedded systems studies so that our graduates will not have to rely solely on on-the-job experience and self-training in this important area."
Last Updated: May 17, 2017 11:19 AM