Grace Hopper Conference Inspires Purdue CS Students
11-10-2010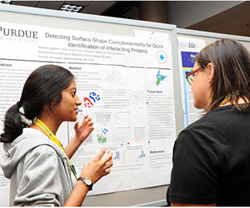 The Grace Hopper Celebration (GHC) of Women in Computing is a conference designed to bring the research and career interests of women to the forefront. It's a chance for women in their respective field to present recent research and attend sessions which focus on female representation in today's technology fields. This year's theme was "Collaborating Across Boundaries" and really spoke to the purpose and importance of this event.
Eight women from Purdue computer science attended the sold out conference, which was held in Atlanta, Georgia from September 28 to October 2, 2010. Not only were they able to hear from multiple prominent females in the field of technology, but they were also given the opportunity to share their research at one of the general poster sessions.
The GHC features more than 117 panels, workshops, and over 400 speakers in all. Highlights of this year's conference included keynote speeches by Carol Barts, CEO, Yahoo! and Duy-Loan Le, Senior Fellow, Texas Instruments.
"This is my fourth time at Grace Hopper Conference, and as always, I continue to feel inspired by so many talented and motivated women," says Mariheida Cordova-Sanchez, PhD student. "This year in particular was special for me because it increased my curiosity and desire to get involved in open source, and also because of talks that I found very useful in my graduate career."
The attendance at the conference has grown over the years due to the increased interest for women in the field, and this year's conference brought in a record-breaking turnout of 2,147 attendees representing 29 countries for the first day.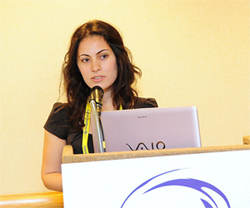 "The Grace Hopper Celebration has increased in size by more than 37 percent this year," said Deanna Kosaraju, ABI's vice president of programs. "We believe this growth is tied to the continuous innovation that takes place within the conference. This innovation would not be possible without the work of our industry and academia committee members who create new tracks and content each year."
When asked about her experience, Purdue CS junior, Roshna Agarwal says, "The conference also successfully exposed us to applications of Computer Science in industry and academia. I feel that anyone who gets the opportunity to attend this conference, should attend."
Sponsors for this year's event were Lockheed Martin, Northrop Grumman, and State Farm.
More information at https://ghc.anitaborg.org/.
Last Updated: May 15, 2017 4:48 PM