CONNECT Program, Success for Department and Females
10-28-2010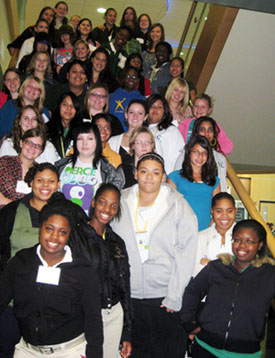 On Monday, October 18, over 40 high school females from around Indiana came to Purdue for the CONNECT program to discover the excitement that a career in computer science would bring. CONNECT was designed to enable high school females to dive into the world of computer science by interacting with current students, stretching their creativity with a fun computing project, and learning about careers in CS.
The tight-knit social community within the department, a CS curriculum built upon fundamentals, the availability of internships and job opportunities, and the support given to female are all factors that bring women to the field of computer science.
Jean Jackson, manager of corporate relations for the Department of Computer Science, said women are underrepresented in computer science, and there is a need for the perspective women bring to the field.
"Whatever their passion is, it can be applied to computing. They can make a huge impact on our future by connecting computing with areas they might not have considered such as art, education, disaster relief, the environment, film, health and fitness, law, medicine, psychology and many more," Jackson said.
The primary sponsors of this event were Google and Lockheed Martin, with other corporate donors including Amazon, Cerner, Cisco, FactSet Research, Harris, Intel, Qualcomm, Raytheon, and State Farm.
Last Updated: May 16, 2017 4:52 PM