Zhang Earns CAREER Award
03-26-2009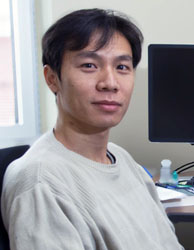 Congratulations to Professor Xiangyu Zhang for his National Science Foundation (NSF) CAREER Award. The CAREER program recognizes and supports the early career development activities of teachers-scholars who are most likely to become academic leaders of the 21st century. Zhang received this award for his proposal entitled Scalable Dynamic Program Reasoning.
Zhang's work focuses on dynamic program reasoning (DR). The technique compares multiple executions to efficiently identify similarities and differences across executions. These executions could be generated from the same program with slightly different inputs or from slightly different programs with the same input. Such similarities and differences provide a wealth of information for applications such as debugging and security.
Zhang joined Purdue Computer Science in 2006 after he received his PhD from the University of Arizona. He earned his MS and BS from the University of Science and Technology of China. His research interests include fault localization, dynamic slicing, execution reduction, program matching, and data validation. Zhang is a member of the ACM and IEEE, and the 2006 recipient of the ACM SIGPLAN Outstanding Doctoral Dissertation Award.
Last Updated: Jun 29, 2023 4:11 PM