Good Luck, Purdue Programming Teams!
10-29-2009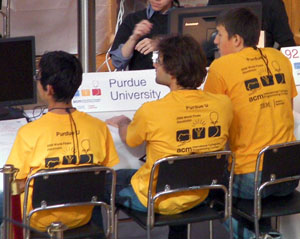 Four teams from Purdue will compete Saturday in the ACM East Central North America (ECNA) Regional Programming Contest. Purdue teams Cheburashka, Gold, Griffins, and Java++ will join other programmers from western Pennsylvania, Ohio, Michigan, eastern Ontario, and Indiana. Co-coaches Prof. Patrick Eugster and Dr. Tim Korb will join this outstanding group of programmers at the University of Cincinnati for the competition.
Several students participating in the contest are enrolled in the new Competitive Programming course taught by Korb. Eugster states, "In the past years, competitive programming has continued to attract more and more students at Purdue. The new class taught this semester has further increased popularity of this type of competition, and as a result we will be participating at this year's regional contest with 4 teams for the first time. The teams combine new talents as well as more experienced participants including last year's world finals participants, so we are all very excited."
The ACM Programming Contest is a five hour event in which teams of three students work together to solve eight programming puzzles. Ranking among teams is based first on how many problems are solved correctly, then on how many minutes it takes to solve each problem. A 20 minute penalty on solved problems is added for each submission that fails to pass the judges' test cases. Programming is done in Java or C/C++.
The department wishes our programmers good luck on Saturday. Help support our teams by sending them off with your well wishes. Programmers and coaches will meet at the Echo Spiral on Friday at 1:00pm. All are welcome to attend the festivities. Live updates will appear on Facebook (fan page "Purdue Computer Science") and Twitter ("PurdueCS").
Team
Members
Cheburashka

Zhanibek Datbayev
Arman Suleimenov
Nathan Claus

Gold

John Bohlmann
Michael Bernard
Kenneth Brown

Griffins

Wenyu (Hearson) Zhang
Yuedong Fang
Tingjun (Derek) Li

Java++

Eric Fischer
Zack Yater
Zeeshan Siddiqui
Last Updated: May 11, 2017 9:28 AM