CS Outstanding Alumni
10-23-2009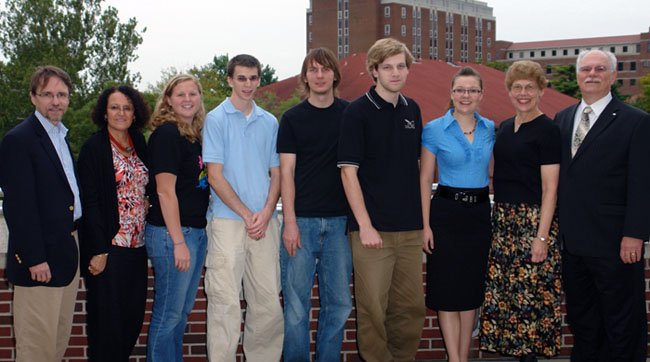 The Computer Science Department honored two alumni for their professional accomplishments and dedication to the department on September 25, 2009. Dr. David S. Dodson and Mr. Roberto Kohler were each named 2009 Outstanding Computer Science Alumni. They each recapped their professional journey in computer science amid CS faculty, staff, and students. During the award presentation, Department Head, Prof. Aditya Mathur presented Dodson and Kohler with an engraved award and announced the addition of their names to the Outstanding Alumni plaque to hang in Lawson. A reception followed the presentation..
Dodson received his MS in Computer Science from Purdue in 1968 and his PhD in 1972. He is currently an adjunct instructor in mathematics at Tarrant County College. He has worked at TRW Space Technology Laboratories, Boeing, Convex Computer Corporation which was bought out by Hewlett-Packard, and the Africa Inland Mission International, a K-12 boarding school in Kenya.
Kohler received his BS in Computer Science from Purdue in 1980, and his MS in 1986.He founded IntraNets, Inc. in 1996, and currently serves as CEO. IntraNets Inc. is an Application Service Provider with offices in the USA and in México. The company develops state of the art web enabled ERP applications for the Latin American market. Kohler has also worked at AT&T Bell Laboratories for 12 years.
The CS Outstanding Alumni and their wives enjoyed their visit to Purdue. They were recognized in College of Science activities, and they enjoyed getting to meet some of our students. They had lunch with the officers of the CS student organizations.
Last Updated: May 11, 2017 9:42 AM