Killian Serves as Co-Chair of PYFA
07-01-2009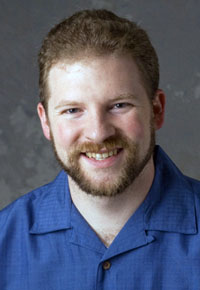 Prof. Charles "Chip" Killian will serve as co-chair for the Purdue Young Faculty Association (PYFA). His fellow co-chair will be Prof. Rachael Kenney. This is a one-year appointment that will begin in fall 2009.
The PYFA is a social network for self-described young faculty at Purdue. The group arranges social events for members, and provides details on local events and attractions. The organization hopes to attract a wider variety of faculty in the upcoming year. Killian says, "PYFA has been instrumental in helping my wife and me connect with the community in and around Purdue. I'm excited to help other young faculty get the same benefit, and expand the reach of PYFA by creating a greater online community."
Killian joined CS in 2008 as an assistant professor. He received his PhD from the University of California, San Diego, and his MS from Duke University both in computer science. He earned his BS from North Carolina State University in computer science and applied math. His research interests are distributed systems, model checking, programming languages, overlay networks, P2P networks, operating systems, network security, resource management, discrete math, Venn diagrams, and Gray codes.
Last Updated: May 11, 2017 2:58 PM