Purdue Serious Games Team Wins Mira
05-19-2008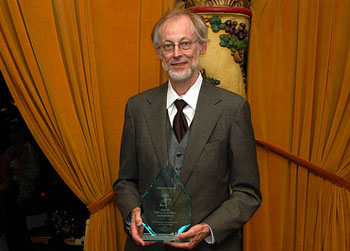 Prof. Christoph Hoffmann and fellow researchers Profs. Gary Bertoline and Beverly Sypher won a 2008 Mira Award! Purdue's Serious Games Initiative, led by these three faculty members, received recognition at the 9th Annual TechPoint Mira Awards Gala for Educational Contribution to Technology. The award was presented on Friday, May 16 at the Indiana Roof Ballroom. Hoffmann accepted the award on behalf of the team.
Purdue researchers involved in the Serious Games Initiative are using technology to revolutionize the way students will learn in the future. Taking gaming beyond entertainment, Hoffmann, Bertoline, and Sypher are Purdue's forerunners in the area. Hoffmann is a Professor of Computer Science and the Director of the Rosen Center for Advanced Computing, and the Codirector of the PLM Center of Excellence. His research is in geometric computing and the many applications in science, engineering and education. Bertoline is a Distinguished Professor of Computer Graphics Technology and Computer and Information Technology, the Assistant Dean for Graduate Studies, and the Director of the Envision Center for Data Perceptualization. Sypher is the Associate Provost for Special initiatives, the Susan Bulkeley Butler Chair for Leadership Excellence, and Professor of Communications..
TechPoint is comprised of the technology leaders of Indiana. The mission of these companies, universities, and organizations is to "transform Indiana into a recognized technology leader by developing relevant policy, catalyzing change, and measuring the state's progress." The Mira Awards acknowledges the top TechPoint performers.
Congratulations to Prof. Hoffmann and the Purdue Serious Game Team!
Last Updated: Jun 28, 2023 4:55 PM