Cisco TelePresence Unveiled at Purdue
11-05-2008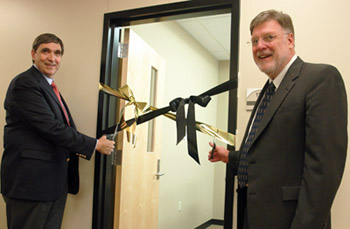 The Purdue Department of Computer Science dedicated the
Cisco® TelePresence
video conferencing room in the Lawson Computer Science Building on October 15, 2008. Cisco has provided this technology to several top research universities nationwide. "University researchers are a critical component of Cisco's innovation strategy and provide us with a direct pulse on the next wave of technology," said Doug Comer, vice president of Cisco Research and Distinguished Professor of Computer Science at Purdue. "The ability to push a button and immediately connect in-person with three or four researchers at different universities creates a unique flow of information not previously possible using traditional methods of collaboration. We believe this is an important step in fostering an open, more collaborative research environment for innovation in the 21st century and beyond."
Comer kicked off the dedication events with an overview of the TelePresence system. He and Purdue College of Science Associate Dean, George McCabe, then officially opened the Cisco TelePresence room for use in a ribbon cutting ceremony. The Cisco TelePresence dedication events included a message exchange between Cisco representatives and Purdue researchers. The 65" high-definition screen created a virtual meeting space that gave participants a feeling of being in the same room as Cisco colleagues. The $650,000 gift (including three years of networking and support costs) from Cisco breaks down the barriers of distance, and makes collaborative research more productive and inexpensive by eliminating travel restraints and costs.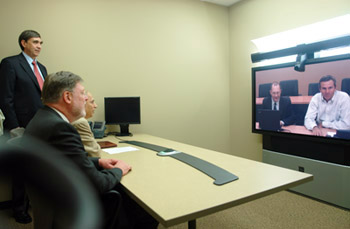 "Cisco TelePresence will be an excellent addition to the tools we use in our interactions with faculty from other universities and representatives from industry around the world," said Aditya Mathur, Department Head and Professor of Computer Science at Purdue. "Purdue is a global university with students from over 100 countries and with study abroad programs in over 100 universities outside of the US. The Cisco TelePresence University Connection program offers us a unique opportunity to greatly improve the quality of our interactions with our global partners."
Universities currently participating in Cisco TelePresence University Connection include Cornell University, Massachusetts Institute of Technology, North Carolina State University, Purdue University, Stanford University, the University of California, Berkeley, the University of California, Los Angeles, the University of California, San Diego, and the University of North Carolina at Chapel Hill.
Last Updated: May 3, 2017 2:29 PM