CS Camp Brings Students to Purdue
07-06-2007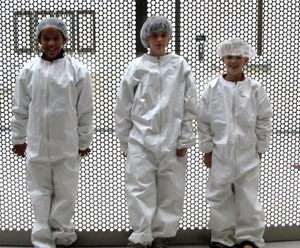 Middle school aged students filled the halls of the Lawson Computer Science Building during the 2007 Computer Science Summer Camp. Campers from across the nation participated in either a beginner camp or an advanced camp. Students attending camp sessions stayed in Hillenbrand Residence Hall, and utilized the state-of-the-art facilities in the Lawson Building for the first time. Both camp sessions also toured the Birck Nanotechnology Center. During their tour, they learned what nanotechnology is, and they got to suit up for the cleanroom. The 2007 camp was sponsored by Caterpillar, Motorola, and Raytheon Technical Services. To check out the Beginner Camp and Advanced Camp activities, download the video at http://www.cs.purdue.edu/news/video/other/.
Thirty-three beginner campers checked in on June 24. Students who participated in this session needed to be in grades 6, 7, or 8 by the fall of 2007. They learned programming using Lego Robotics and Alice Programming Language. Campers needed no previous programming experience. To give campers a rest from their hard work, they went to dinner at Bruno's and watched Surf's Up on Monday night. It was back to work after movie night, and on Wednesday the campers' competitive nature came out in the Lego Challenge. Campers then got a chance to strut their stuff in the project showcase on June 27th when the camp session concluded.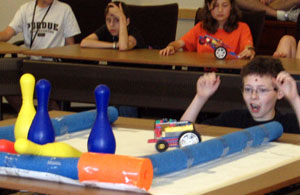 Advanced camp which begin on June 27 had twenty participants. Campers should have attended a previous Computer Science Summer Camp or have computer programming experience. The advanced camp was held for students entering grades 7, 8, pr 9 by fall of 2007. The advanced camp featured two competitions. The Alice Frenzy Competition had campers create a commercial, movie or game using Alice programming. The Cybernetic Showdown provided participants the opportunity to develop their own robot to compete in a computer game. Campers saw Shrek the Third for movie night and went to Puccini's for dinner on Thursday night. The advanced camp ended on Saturday, June 30 with a project showcase.
After a great time at camp, students left Purdue feeling proud of what they accomplished. They learned skills they can apply to their future studies. They also found out what computer scientists really do, and learned about what the field provides in the world today.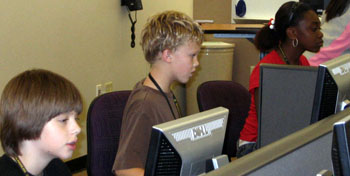 Last Updated: Apr 28, 2017 5:09 PM