CS Participants Celebrate Women in Computing
11-09-2007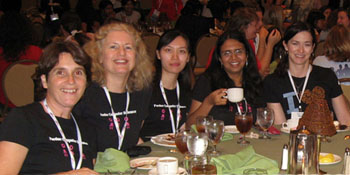 Purdue Computer Science participated in the 2007 Grace Hopper Celebration of Women in Computing program. The conference was held October 17-20, 2007 in Orlando, Florida at Walt Disney World. Participants enjoyed conference sessions, networking, and learning about the various achievements of women in computing. CS participants included 6 undergraduate students, 4 graduate students, and 4 faculty and staff members. CS graduate student, Debbie Perouli said, "We had the chance to meet with outstanding women in Computer Science and Engineering. Their presence and contribution is no more a dream, but a reality."
The conference, sponsored by the Anita Borg Institute for Women and Technology and the Association of Computing Machinery (ACM), covered many topics dealing with women in computing. Keynote speaker, Donna Dubinsky, Founder, CEO, and Board Chair of Numenta, gave a talk entitled Three L's of Leadership. Keynote speaker, Maria Klawe, President of Harvey Mudd College, discussed Best time ever for women to study computer science... so how do we get them to do it?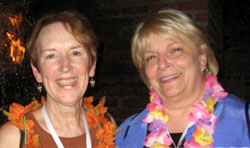 Undergraduate Emily Raymond said, "At the Grace Hopper Conference, I saw a whole new side of computing that I never knew existed. Not only did I discover a large community of women in technology, but I also saw some amazing new advances happening in our field. I learned so much about leadership, technology, and recruitment of women to computing."
Some members of the CS group participated in the conference presentations. Mindy Hart, Outreach Coordinator, was one of three presentors in the Unique Needs: Producing a long-lasting outreach program session. Undergraduate students, Janine Tenkate and Jeff Blenman, also assisted in this session by demonstrating the presentation activities in the CS roadshow. Shweta Gupte presented part of her EPICS project in her Judicial Database System poster. Her advisors for this project were Profs. Cristina Nita-Rotaru and James Early.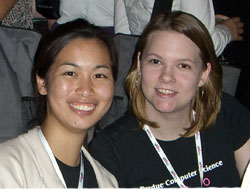 The trip for CS participants was made possible by members of the Purdue Computer Science Corporate Partners Program. Thank you to Allston Trading, Microsoft Corporation, Northrop Grumman, Principal Financial Group, and State Farm for their contributions. Jean Jackson, Manager of Corporate Relations was pleased that, "The generosity of our corporate sponsors inspired our students to celebrate the empowerment of women in computing."
Undergraduate student, Shweta Gupte states, "[The conference] is my most memorable experience as a Purdue undergraduate." And in addition to great enlightenment of the emerging advances in technology, and the empowerment of women in the field of Computer Science, CS participants enjoyed their trip to Walt Disney World.
The 2008 Grace Hopper Celebration of Women in Computing will be held October 1-4 at Keystone Resort, Colorado. The theme of the event will be We Build a Better World.
Last Updated: Apr 28, 2017 1:29 PM