Harris Corporation Classroom Dedication
10-08-2007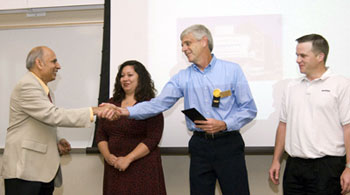 Room B151 in Lawson is now the Harris Corporation Classroom. Representatives from the Harris Corporation were on campus on September 10, 2007 to dedicate the new Harris Corporation Classroom in the Lawson Computer Science building. In recognition of a significant gift and the classroom dedicated, Department Head, Aditya Mathur, thanked the company for their support of Purdue Computer Science. Mathur presented Harris representative and Purdue CS alumnus Jim Clamons (Vice-President of Engineering, Government Communications Systems Division), and Harris representatives Brad Olson (Engineering Manager, Airborne & Security Software Engineering) and Alina Shaffer (Manager, College Recruiting) with a plaque during the fall meeting of corporate partners. Harris representatives were also presented with a nameplate that will hang outside the classroom.
Harris Corporation is the first corporate sponsor of a classroom in Lawson. Their gift puts the communications and information technology company at the Premier Partner level in the Purdue Computer Science Corporate Partners Program (CPP). Their contribution to the department will enhance the corporate partners program on the Purdue, West Lafayette campus.
Harris Corporation is an international company based out of Melbourne, Florida. They serve more than 150 countries in government and commercial business. The company employs more than 14,000 people, and more than 6,000 engineers and scientists. Harris Corporation provides government communications, RF communications, broadcast communications, and wireless transmission network solutions.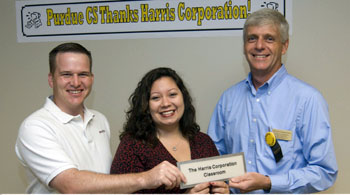 Thank you, Harris, for your continued support of the Purdue Computer Science Department!
Last Updated: Apr 28, 2017 2:44 PM