Atallah Receives Distinguished Alumnus Award
11-05-2007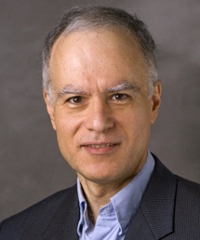 Professor Mikhail (Mike) Atallah received the 2007 Faculty of Engineering and Architecture (FEA) Distinguished Alumnus Award from the American University in Beirut (AUB). The award was presented for "his contributions to parallel and distributed computation and information security." Atallah earned his BE degree with distinction from AUB in Electrical Engineering in 1975.
Atallah joined Purdue University Department of Computer Science in 1982. He currently serves as Associate Head of the department and is a Distinguished Professor of Computer Science. His current research interests are primarily in information security, and also include algorithms, parallel computation, and computational geometry. He has won several teaching awards, and is in the Purdue University, Book of Great Teachers. Atallah is a co-founder of Arxan Technologies Inc., and a fellow of the ACM and IEEE.
During the AUB Distinguished Alumnus recognition, Atallah gave a talk entitled "Key Management for Access Hierarchies."
Last Updated: Apr 28, 2017 1:34 PM