CS Programming Teams "In the Prizes"
12-02-2007
Two Purdue CS programming teams competing in the recent ACM Regional Programming Contest fared well and took home prizes from the event. All team members of the Purdue Black and Purdue Gold teams received a four-gigabyte USB memory stick for their programming prowess. The 2007 East Central North America Regional for the ACM International Collegiate Programming Contest took place on Saturday, November 10 and lasted for five hours on the University of Cincinnati campus. The region included 116 teams and took place at four different sites.
Both Purdue teams finished in the top 20.  The Purdue Gold team, which finished 20th, ahead of nearly 100 other teams, was composed entirely of freshmen currently enrolled in CS 180.  Dr. Tim Korb, CS Assistant Head, has high expectations for next year. "To have a first year team do so well out of the gate is very impressive—we're hoping that with some coaching and focused practice, they'll be a major contender next year!"
The two car caravan to Cincinnati included programming team members, Prof. Patrick Eugster (team coach), and Dr. Tim Korb (co-coach). The Purdue Black team consisted of Galymzhan Berikovich (CS), Noah Blach (Math), and Zhanibek Datbayev (MET). The Purdue Gold team included Michael Bernard (CS), John Bohlmann (CS), and Kenneth Brown (CS).
The problem sets and judges' solutions are available online at http://acm.ashland.edu/2007/problem-set.html. One of the judges this year was 1989 Purdue CS PhD graduate, John Bonomo, now on the faculty at Westminster College.
More photos from the ACM Programming Contest trip are available on Facebook and Flickr.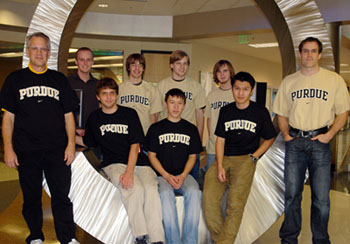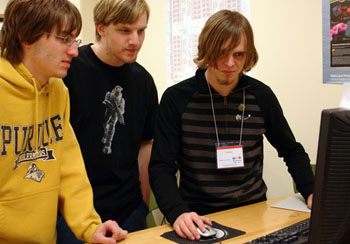 Last Updated: Apr 28, 2017 8:59 AM