CS Welcomes Two Babies on Aug. 12
08-14-2006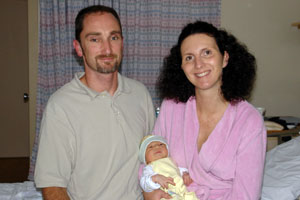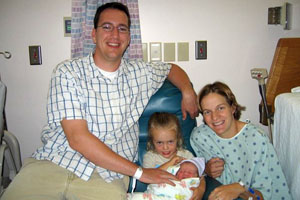 Picture 1:Matt, Karla & Jude Cotter
Picture 2: Chris, Corinne, Johanna & Stacie Mayfield.
The CS Department welcomed two babies on Saturday, August 12, 2006.
Jude Alexander Cotter was born at 3:12 pm to Karla and Matt. He came into the world at 21.75 inches, weighing 8 lbs. 7oz. The proud parents and Jude are doing great. Karla is the Administrative Assistant to the Department Head.
Johanna Mayfield was born at 5:13 pm. Her arrival was very exciting for her parents, Chris and Stacie, and her big sister, Corinne. She came into the world weighing 9 lbs. 3 oz. and measured 21.5 inches long. Chris is a PhD student in the Department of Computer Science working with Prof. Sunil Prabhakar in the area of databases.
2006 has brought many bundles of joy to the department. In May and June CS added a little girl and a little boy to our families.
Ron and Candy Castongia, along with big brother Brett, celebrated the arrival of Brooklyn Eileen Castongia on May 22, 2006. She weighted 6 lbs. 10.8 oz. and was 19 1/2 inches long. Ron is the Computer Facilities Manager in CS.
Daniel Aliaga and his wife Varinia Barreto were overjoyed to have Sebastian Daniel Aliaga Barreto arrive on June 7, 2006 at 5:01 pm. He was 7 lb. 9 oz. and 21 inches long. Daniel is an Assistant Professor of Computer Science working in the area of computer graphics, in particular capturing and rendering large complex environments.
CS will continue adding little ones into the fall semester. Prof. Gopal Pandurangan is expecting his first child in August, and Nicole Piegza is expecting her first in September.
Best wishes to our new arrivals!
Last Updated: Apr 7, 2017 8:49 AM