Purdue Programming Teams Results
11-14-2006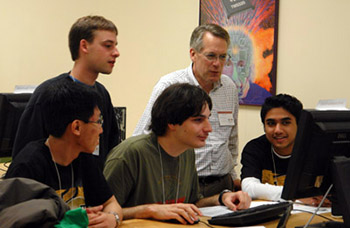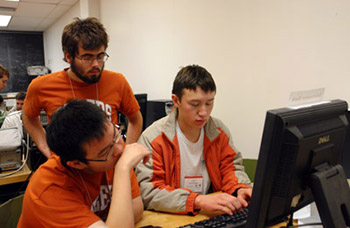 The programmers of Boilermakers Black and Boilermakers Gold competed in the ACM Regional Programming Contest on November 11, 2006 in Cincinnati, Ohio. Under the guidance of coach, Tomek Czajka, the Boilermakers Black ranked sixth and the Boilermakers Gold ranked 29th of 91 teams. The Boilermakers Black were comprised of Nathan Claus, Zhanibek Datbayev, and Ferry Unardi. Team Boilermakers Gold included Emil Stefanov, Prakhar Gupta, and Kester Laurens.
After about two hours into the competition, the Purdue Boilermakers Black were going strong — bouncing between 2nd and 3rd place. A third place finish would have qualified them for a trip to the international finals competition in Tokyo, Japan this spring. Purdue teams may not be in Tokyo, but they will be cheering for their friends from Carnegie Mellon, who competed with them onsite in Cincinnati. The other two teams ranking in the top three are from the University of Toronto and University of Waterloo.
The Boilermakers Black and Gold were accompanied to the contest by ACM Faculty Advisor, Professor Patrick Eugster, Assistant Department Head, Dr. Tim Korb, and PhD student, Jacques Thomas. More information about the teams.
Congratulations to the Purdue ACM Programming Teams!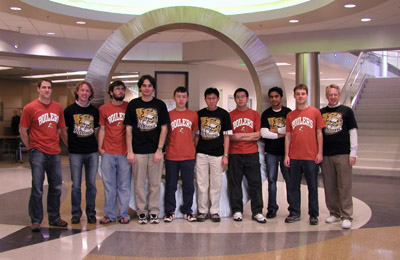 From left to right: Prof. Patrick Eugster, Jacques Thomas, Nathan Claus, Emil Stefanov, Zhanibek Datbayev, Kester Laurens, Ferry Unardi, Prakhar Gupta, Tomek Czajka, and Dr. Tim Korb.
Last Updated: Apr 6, 2017 3:16 PM