New "Bio Pages" for Faculty, Staff, and Students
10-19-2006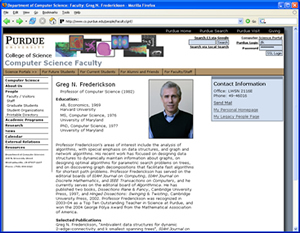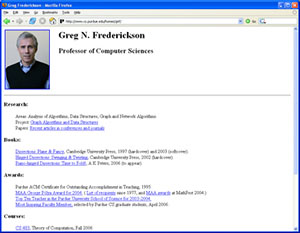 The CS Department has long provided each computing user with a default web page, called a "People Page". The People Page includes a boilerplate of standard departmental-supplied directory information followed by whatever information appears in a homepage.html file in the user's UNIX ~/.www directory.
A few years ago, we began providing each faculty member with a "Bio Page", which includes the same directory information as the People Page, but also adds customizable biographical information.
We recently extended the Bio Page feature to all CS computer users and are now phasing out the People Page.
If you have content in your homepage.html file that you want to preserve, you will need to migrate that content to either your Bio Page or to your Personal Page.
To edit your Bio Page, log in to the CS Portals site. Click on the My Biography link under Resources, and you will see a view of your current page and links to edit the available sections.
To edit your Personal Page, log in to a departmental UNIX host and edit the index.html file in your UNIX ~/.www directory. Alternatively, you may disable or redirect your Personal Page to a different URL through the Bio Page editing section of the CS Portals site.
The People Pages will remain available for use during a transition period, but will eventually go away. During this transition, access to https://www.cs.purdue.edu/people/login will show the "Legacy People Page" only for those users who still have a homepage.html file. For all others, it will show the new Bio Page.
Last Updated: Jun 28, 2023 4:41 PM