Purdue Computer Science Faculty, Students, and Staff Attend Event
10-13-2006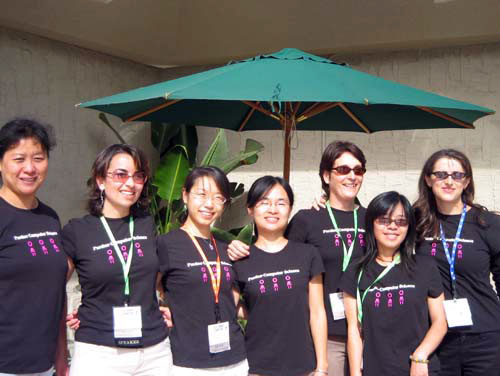 From left to right: Yunhua Koglin, Mercan Topkara, Jing Li, Yinian Qi, Renate Mallus, Lixia Liu and Cristina Nita-Rotaru
Eleven people from the Purdue Computer Science Department participated in this year's Grace Hopper Celebration of Women in Computing Conference in San Diego, California from October 4th through the 7th.
The event, which was themed "making waves", focused on enriching and supporting the impact that women have made within the computing field. Panels, workshops, technical presentations and forums provided resources for women in computer science and supplied information that placed a special emphasis on technology's role in bettering humanity.
A diverse group of people represented the Purdue Computer Science department at the conference. Graduate students Lixia Liu, Yinian Qi, Yunhua Koglin, Jing Li, Bhagya Bethala, and Mercan Topkara and undergraduates Prisilia Paramita and Janine Tenkate were accompanied by faculty and staff that included Professors Jim Early and Cristina Nita Rotaru, and Graduate Office Coordinator Renate Mallus.
Dr. Nita-Rotaru said, "Purdue was very well-represented in the conference."
Members of the Purdue CS group did take part in various activities. Graduate student, Mercan Topkara, gave a presentation on "Natural Language Watermarking" in the PhD forum. Undergraduate student, Janine Tenkate, participated in a panel discussion on "Increasing Women in Technology". Dr. James Early also lent his perspective to a panel on "Computing and Community".
The conference allowed visitors to hear talks from innovators in the computing and science fields. Dr. Sally Ride, the first woman astronaut, was just one of the prestigious guests at the event. She was the keynote speaker for the conference, and gave a talk on "Engaging Girls in Math, Science and Technology".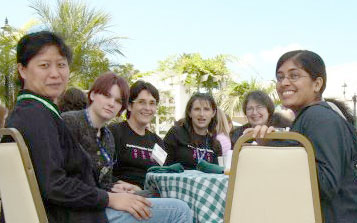 For many, the conference also provided an opportunity to meet and mingle with many industry leaders and top researchers. In fact, the Purdue CS attendees were able to meet Radia Perlman, one of the top 25 most influential people in the networking industry. Perlman is a Distinguished Engineer at Sun Microsystems. She is known for her contributions to bridging (spanning tree algorithm) and routing (link state distribution) as well as security (sabotage-proof networks).
Computer Science Graduate Office Coordinator, Renate Mallus said, "One highlight for our group was that we got to have lunch with Radia Perlman. She told us wonderful stories about her work and family."
The Purdue CS group enjoyed the comradery that developed between the attendees over the course of the conference.
Mercan Topkara said, "I think GHC is all about bringing people together. It always surprises me how many things I can find in common with the people I meet at GHC independent from their rank or technical background."
Purdue students, faculty and staff gained much from the conference, but Purdue also contributed to the event. Purdue Computer Science, Computer Technology, and Electrical & Computer Engineering departments supported the Grace Hopper Conference with an academic underwriting sponsorship, helping to insure the conference's present and future success.
Next year's conference will be held in Orlando, Florida from October 17th through the 20th.
Last Updated: Apr 6, 2017 4:00 PM