Professor Gautschi Honored by International Conference
07-31-2006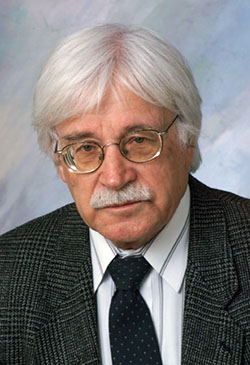 Professor Walter Gautschi will be recognized for his 50 years of professional activity in mathematics at the 1st Dolomites Workshop on Constructive Approximation and Applications. The conference, dedicated to Professor Gautschi, will be held September 8 – 12, 2006 in Alba di Canazei, Trento (Italy).
After two postdoctoral years in Rome (Italy) and at Harvard University Professor Gautschi began his professional career in 1956 at the American University in Washington D.C., where he worked for three years under a contract for the National Bureau of Standards (now the National Institute of Science and Technology). He then worked at Oak Ridge National Laboratory for another four years before coming to Purdue University in 1963 as a Professor of Mathematics and Computer Sciences. With the exception of two sabbatical years at the Technical University of Munich (Germany) and at the University of Wisconsin in Madison, Professor Gautschi remained at Purdue until his retirement in 2000.
Professor Gautschi is now a Professor Emeritus at Purdue. His primary research areas include numerical mathematics and constructive approximation theory. He is considered a world authority on computational methods for orthogonal polynomials and special functions. He is a member of the prestigious Bavarian Academy of Sciences and a foreign member of the Academy of Sciences in Turin. Professor Gautschi is listed in the Lexikon bedeutender Mathematiker (2d ed.) published in Leipzig.
The 1st Dolomites Workshop on Constructive Approximation and Applications will be attended by nearly 100 participants from 30 different countries and all six continents. The proceedings of the workshop will be published in a special issue of the international journal Numerical Algorithms, also dedicated to Professor Gautschi. Among the plenary lectures there will be one describing the professional life and principal contributions of Professor Gautschi.
Last Updated: Jun 28, 2023 4:35 PM