Second Year Excellence in Teaching Nomination for Elmongui
04-25-2006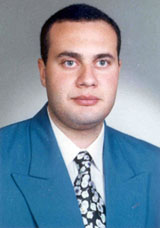 Congratulations to Hicham Elmongui for his second year Excellence in Teaching nomination. His energetic approach to teaching awarded him the CS recommendation to the College of Science for this university-wide award. He was then selected as one of two nominees from the CoS.
Hicham is a PhD candidate in the Computer Science Department. His research interests are in database management systems, data stream management systems and spatio-temporal databases. His advisor is Professor Walid Aref, and expects to earn his PhD in 2008. Hicham was the college valedictorian when he received his Bachelor degree in Computer Science and Automatic Control in 1998. He received his MS in Computer Engineering in 2001, and his MS in Computer Science in 2003.
Hicham received Purdue University Andrews Fellowship in 2001, a Computer Science departmental fellowship in 2002, and the 2005 TechPoint MIRA award for Education (Knowledge Projection Project). He was also awarded the Purdue University Outstanding Teaching Award in 2003. He is a student member of IEEE, ACM and Upsilon Pi Epsilon computer science honor society. He also served in the organizing committee of the Midwest Database Research Symposium in 2005. Hicham is spending this summer at Microsoft Research as an intern. He is working under the mentorship of Paul Larson.
Last Updated: Apr 7, 2017 11:45 AM