Comer Recognized as Mira Finalist
05-22-2006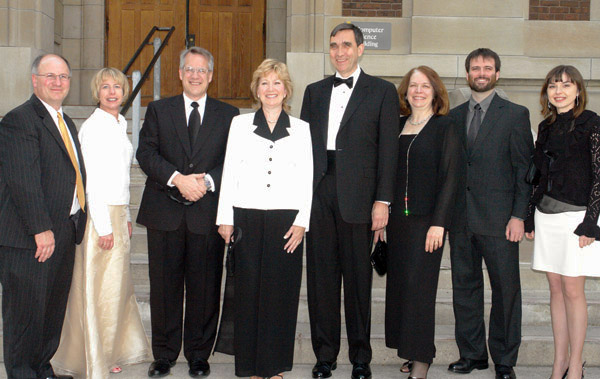 Mira Awards attendees prepare for the ceremony. From left to right: Tony Vidmar, Donna Vidmar, Dr. Tim Korb, Kathy Korb, Prof. Douglas Comer, Christine Comer, Ethan Blanton, and Marina Blanton.
Distinguished Professor Douglas Comer was recognized as a Mira finalist at the Techpoint Mira Awards on Friday, May 19, 2006. He received this honor for the Educational Contribution to Technology category. Professor Comer had some intense competition, but his dedication to teaching and excellence in furthering learning through technology made him soar to the finals. The Techpoint Mira Awards celebrates Indiana's Technology-Driven Future.
Professor Comer is an innovator in the field of computer science. He is an internationally recognized expert on computer networking and the TCP/IP protocols. He is also well-known for his series of ground breaking textbooks on computer networks, the Internet, and computer operating systems which have been translated into sixteen different languages. His texts have been used by fifteen of the top sixteen Computer Science Departments listed in the U.S. News and World Report ranking.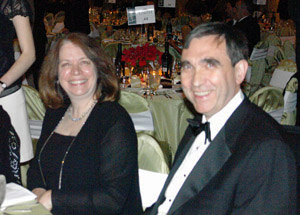 Professor Comer began his work with TCP/IP and the Internet in the 1970's. His research is experimental. He and his students design and implement working prototypes of large, complex systems. He has been at Purdue since 1976 and was named a Distinguished Professor of Computer Science in 2004.
Purdue University also boasts a Mira winner and finalist in the Innovation of the Year Award category. Purdue University's Quadraspec won top honors in this category, and Professor Karthik Ramani from the School of Mechanical Engineering/Imaginestics, LLC was a finalist.
Congratulations to Professor Comer for this prestigious honor!
Last Updated: Apr 7, 2017 11:34 AM