Lawson Building Update
07-20-2006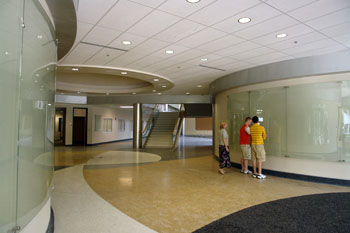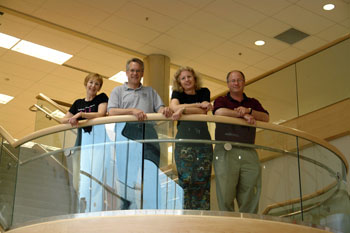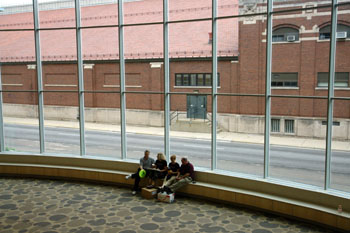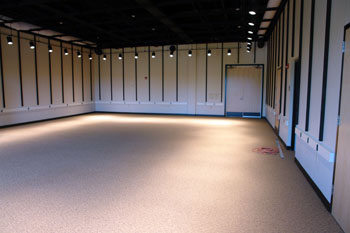 Picture 1: The Kurz Lobby awaits the beginning of the fall 2006 semester in August.
Picture 2: Jean Jackson, Dr. Tim Korb, Prof. Susanne Hambrusch, and Tony Vidmar look down on the commons area on substantial completion day.
Picture 3: CS Administration conducts their first meeting in the commons area of the Lawson Building.
Picture 4: The visualization lab allows researchers to mount equipment in any way needed.
The Lawson Building has passed the "substantial completion" milestone! However, the official "opening" will not be for a few more weeks. The current target is to start moving people on August 7th!
CS hopes to have many of their offices moved into Lawson before the start of classes, but there are still many details to be finished. What remains to be done are: finish coats and touch up painting, safety inspection, floor finishing, stair treads, ceiling tile replacement, trim work, balancing the a/c, testing the fire alarms, fixing mistakes and omissions, exterior landscaping and guard rails, etc.
The furniture installation is ongoing, and the data center is now powered up and the network switches are being installed and configured. There are servers to move to the data center and instructional labs to set up in the basement. Telephone installation will start in early August, and the A/V crew still needs to install projectors, lecterns, etc. in the classrooms, instructional labs, and conference rooms.
In all the excitement of set up and moving in, do not forget to mark your calendars for the building dedication ceremony scheduled for September 15th at 11:00 AM.
Last Updated: Apr 7, 2017 9:43 AM