CS Student Earns Astronaut Scholarship
06-01-2006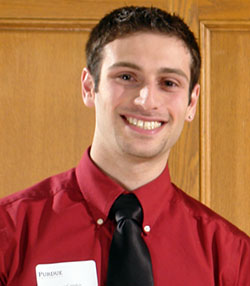 CS undergraduate, Alexei Czeskis has earned a scholarship from the Astronaut Scholarship Foundation (ASF). Alexei's initiative, creativity and excellence in computer science prompted his nomination for this honor. Alexei was one of two students chosen by a university-wide Purdue committee from all the engineering and natural or applied science students nominated. The ASF Scholarship Committee then selects one qualified recipient from each school and gains final approved from the ASF Board.
The Astronaut Scholarship Foundation was created by the Mercury 7 Astronauts to ensure the country's leadership in science and technology. The scholarship is available to U.S. citizens who are students at select institutions. Candidates may only be nominated and can not apply for this scholarship. Nominees must have an excellent academic record, be at least a third year college student, and have participated in lab and research work in their field. Scholarships are awarded to student who have the intention to pursue research to advance their field upon completion of their final degrees.
One qualified candidate at the following institutions is awarded the scholarship each year. If the ASF Board decides neither nominee is qualified, the scholarship will not be awarded to the school for that year.
Georgia Institute of Technology
Harvey Mudd College
Miami University (Ohio)
North Carolina A&T State University
North Carolina State University
North Dakota State University
Pennsylvania State University
Purdue University
Syracuse University
Texas A&M University
Tufts University
University of Central Florida
University of Colorado
University of Kentucky
University of Minnesota
University of Oklahoma
University of Washington
Washington University (St. Louis)
Last Updated: Apr 7, 2017 10:19 AM