Vibbert Awarded for Excellence in Customer Service
03-21-2005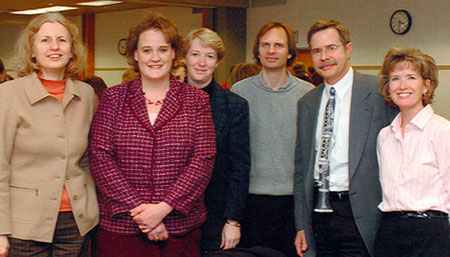 The 2004 Eleanor O. Kaplan Award for Exceptional Customer Service went to Computer Science business office clerk, Amber Vibbert (second from left). Purdue faculty and staff attended the Eleanor O. Kaplan Award ceremony where Amber was announced the university-wide winner of the customer service award for clerical staff.
The Eleanor O. Kaplan Award is a memorial award given in honor of Business Manager, Eleanor Kaplan's dedication to her customers and her attention to customer satisfaction. The recipient of this award must be equally committed to customer service, contribute outstanding improvements to their area through individual leadership, show creative or innovative methods of serving their customers, and provide significant contributions to improving customer service. Amber faced some tough competition in front of the Kaplan Award Committee, but rose to the top.
Amber consistently receives rave reviews from the faculty and staff in Computer Science. Department Head, Susanne Hambrusch, says in Amber's Kaplan nomination, "Amber helps out willingly and enthusiastically. she is always eager to learn." Computer Science Professor, Chris Clifton, says Amber has "advanced rapidly in the last few years, and is now handling complex proposals and contracts." He states that Amber has things "done on time... is good at keeping faculty informed... and ensures things are done right."
Amber began her career at Purdue in 2000. She worked for Civil Engineering and then moved to Computer Science in 2002. She is the first College of Science clerical employee to win the Kaplan Award. As the winner of the Kaplan Award Amber received a memorial plaque, a monetary award and she will serve a two-year term on the Kaplan Award Committee to recognize future excellence in customer service.
Thank you, Amber, for your outstanding work!
Last Updated: Apr 6, 2017 10:24 AM