Purdue Team Wins 2005 MIRA Award
05-13-2005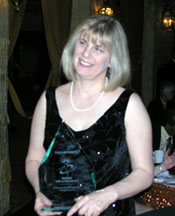 The Knowledge Projection Project (KPP) - Purdue University Computer Science received the award for Education at the 2005 TechPoint MIRA Awards on May 13. On behalf of her team, Ann Christine Catlin accepted the award at the 2005 MIRA Award Ceremony at the Indiana Roof Ballroom in Indianapolis.
Nominees for the MIRA Award must be involved in Indiana higher-education and show success in one of the following areas: educational opportunities, research, program growth, student success or outstanding leadership. The winner of the award will demonstrate excellence in the delivery or use of technology to further learning and educational achievement.
The KPP Team includes: Ann Christine Catlin, Christopher Clifton, Ahmed Elmagarmid, Arif Ghafoor, Sunil Prabhakar, Mirette Marzouk, Ammar Masood, Ercan Mehmet Mnergiz, Rafae Bhatti, Yi-Cheng Tu, Yuni Xia, Thanaa Ghanem, Javed Siddique, Arjmand Samuel, Mohamed Elfeky, Hicham Elmongui, Mohamed El Tabakh, Jason Catlin, Hazem Elmeleegy, Mohamed Ali, and Mourad Ouzzani. The team is a collaborative effort involving groups from academia, government, and industry.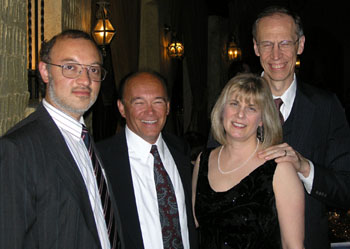 The KPP aims to revolutionize maintenance operations for Navy vessels. It is an excellent example of the impact a university can have on bringing new ideas to practice, and how practical issues from government and industry can impact university education and research. Fifteen members of the KPP Team are graduate students. These students have come away from the project with a deeper understanding of the roadmap to project success.
Ann Christine Catlin has been instrumental in both making the KPP a successful educational experience, and a success for the Navy. By providing a level of project structure and management not normally seen in University projects, she has given students the experience of real-world R&D projects that normally takes several years of industrial experience to acquire. Ann Christine received a Special Merit Award from Purdue University's School of Science in December 2004 for extraordinary achievement with KPP.
Nominees for the 2005 MIRA Education Award included the CS Advanced Tablet Platform Applications Course. The course was created by Professor Daniel Aliaga and Dr. Gustavo Rodriguez-Rivera. Students use new ways to interact with computers, using pen-based digital ink, large, touch-sensitive displays, and wireless Internet access providing better mobility. The class challenges students to create novel applications taking advantage of unique Tablet PC features. Students have rated their time in this course among their best at Purdue, and the team-project experience and software engineering principles they learn will give them a significant head start in the marketplace.
Congratulations to the Knowledge Projection Project Team for their great work!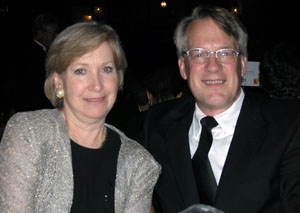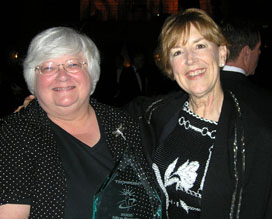 Last Updated: Apr 5, 2017 4:33 PM