CS at Tapia Conference
11-11-2005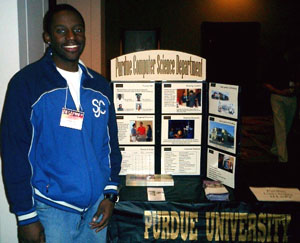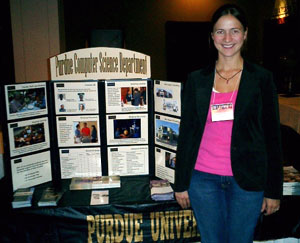 The Purdue Computer Science department was an Academic Contributor to the 2005 Richard Tapia Celebration of Diversity in Computing Conference. Nwokedi Idika, Rimma Nehme and Professor Aditya Mathur represented the department at the conference which was held in Albuquerque, New Mexico on October 19-22, 2005. The theme was A Diversity of Scholars - A Tapestry of Discovery. The Tapia Conference highlighted collaborative and emerging technologies, computational mathematics and science, and multidisciplinary activities in computer science.
There were many activities at the conference that allowed participants the opportunity to network and to speak with others committed to diversifying the field of computing. Activities included the Student and Scholarship Recipient Orientation, Keynote and Plenary Session, Technical Paper Sessions, workshops, panel discussions and the Birds-of-a-Feather Session.
The Tapia conference is held in honor of internationally known Richard A. Tapia, Rice University Noah Harding Professor of Computational and Applied Mathematics. Professor Tapia is a national leader in education and outreach programs. He is co-author of two books and more than 80 mathematical research papers. He is the Associate Director of Graduate Studies for the Rice University Office of Graduate Studies and Director of the Center for Excellence and Equity in Education.
The 2005 Tapia Conference was sponsored by the Association of Computing Machinery and The IEEE Computer Society in cooperation with the Computing Research Association (CRA).
Last Updated: Apr 5, 2017 10:22 AM