Professor Spafford Receives Honorary Doctorate
06-21-2005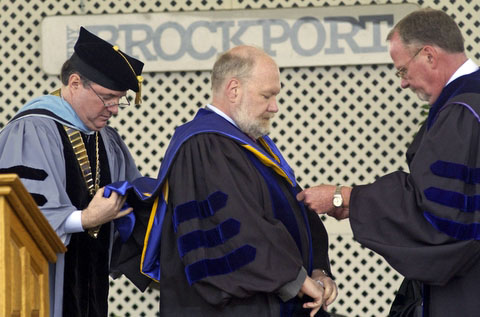 Professor Eugene Spafford was awarded an honorary Doctor of Science (DSc) from the State University of New York on May 14, 2005. The award was made during the undergraduate commencement ceremony at his alma mater, the SUNY College at Brockport. Professor Spafford was selected for this honor by the State University of New York for his outstanding achievements as a world-renowned researcher and expert in the area of computer and network security, computer crime investigation and information ethics. He was recommended by campus presidents, and faculties and selected by an eminent University-wide Committee on Honorary Degrees at SUNY.
Professor Spafford's honorary doctorate citation saluted his expertise, his government & corporate involvement, his involvement with SUNY Brockport and his continued positive impact. He advises several federal agencies. He served as a member of the President's Information Technology Advisory Committee and US Air Force Scientific Advisory Board, and has provided expert testimonies before several congressional committees. Spafford has also returned to SUNY College at Brockport to speak on topical issues of concern and to restructure the College's computer science curriculum. The curriculum reconstruction has earned Brockport a computer science program accredited by the Computing Accreditation Commission of the Accreditation Board of Engineering and Technology.
After receiving his doctorate hood and citation, Professor Spafford addressed the commencement crowd with a touching thank you. He thanked SUNY Brockport for providing a wonderful undergraduate experience for him and his sister (both graduating in 1979). He thanked the faculty and staff of Brockport for providing great examples of dedication to learning and contribution to their fields. Finally, he thanked his family for their support and encouragement and urged graduates to thank the people close to them. He ended his remarks with a hearty congratulations to the class of 2005.
Congratulations, Professor Spafford!
Last Updated: Apr 5, 2017 3:24 PM