Raytheon and Techpoint Fund CS Outreach
12-12-2005
Purdue Computer Science K-12 Outreach received a $5,000 matching grant from the Techpoint Foundation, in partnership with the Central Indiana Community Foundation. Techpoint awarded a total of nine Partners for Youth grants to Indiana not-for-profits and schools to benefit at-risk youth. The Purdue CS matching grant was made possible by the $5,000 contribution of Techpoint member Raytheon Technical Services Company.
With these funds, Purdue CS will be able to provide ten full scholarships for the CS Summer Camp in summer 2006. Purdue CS has provided scholarships in the past to help support students from the Indianapolis and Gary areas. Corporate Techpoint member, Raytheon has provided financial assistance to the summer camps in previously years and often sends volunteers to speak to campers about computer science as a career.
Raytheon Technical Services Company is an "industry leader in defense and government electronics, space, information technology, technical services, and business aviation and special mission aircraft." They are committed to improving the Math and Science education of children. Their dedication to youth education is not limited to their corporate support of programs like the Purdue CS Summer Camp. Raytheon runs the MathMovesU program in hopes of changing students' attitudes about math and science.
Raytheon has been a member of the CS Corporate Partners Program since 1998. They actively recruit Purdue graduates and participate in the annual CS Career Fair held in the fall. Raytheon presented two $1,000 scholarships to continuing students Robert Insley and Zachary Tatlock at the 2005 CS awards banquet. Guest speakers Carlos Arreola and Stephanie Herman from Raytheon also spoke to middle school campers at the 2005 CS Summer Camp.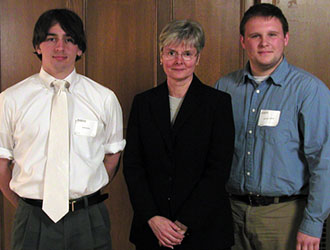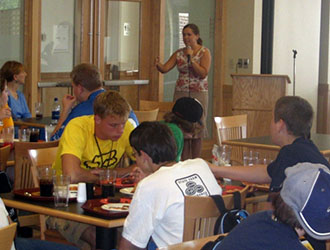 Picture 1: (From left to right) Robert Insley, Donna Chastain (Director of Engineering, Raytheon Technical Services), and Zachary Tatlock at the 2005 CS Awards Banquet.
Picture 2: Stephanie Herman of Raytheon speaks to a group of CS middle-school campers.
Last Updated: Nov 20, 2020 2:27 PM