Professor Li Receives CAREER Award
01-26-2005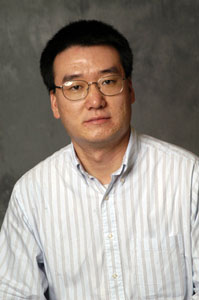 Professor Ninghui Li has received the prestigious National Science Foundation CAREER award. The CAREER program is a Foundation-wide activity that offers the foundation's most prestigious awards for junior faculty members. The CAREER program recognizes and supports the early career-development activities of those teacher-scholars who are most likely to become the academic leaders of the 21st century.
The NSF awarded Professor Li's CAREER award for his proposed work on "Access Control Policy Verification Through Security Analysis and Insider Threat Assessment." Professor Li's research will provide security administrators with new techniques and tools to more thoroughly assess information security and insider threat. Security administrators need these type of tools to assist them in configuring access control.
Currently, security is configured on a "what you specify is what you get" basis and administrators may not want what they get. The proper verification of what they specify would allow them more control over their information security. Professor Li's deep understanding of access control and his solid background in formal methods will achieve the verification goals of this project. The proposed research will advance the state of the art in methods and techniques for access control policy specification and management, and improve scientific understanding of access control.
Before joining Purdue in August of 2003 as an assistant professor in Computer Science, Professor Li was a Research Associate at Stanford University. He received his PhD from New York University Department of Computer Science in 2000 and his MS in 1998. His research interests are in computer security and applied cryptography, e.g., security and privacy in distributed systems, networks, databases, and electronic commerce, with a focus on access control.
Last Updated: Apr 6, 2017 10:14 AM