Dr. Patrick Eugster Joins Purdue CS
07-28-2005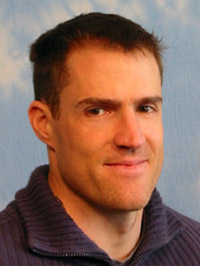 The Purdue Department of Computer Science would like to welcome new faculty member Dr. Patrick Eugster.
Dr. Eugster will join the department as an Assistant Professor. He received his PhD and MS in Computer Science from the Swiss Federal Institute of Technology in Lausanne, Switzerland (EPFL). After receiving his PhD, he joined the Chalmers University of Technology, Göteborg, Sweden, as a postdoctoral researcher before working as a senior software architect at Sun Microsystems, Switzerland and as a research associate at EPFL. Currently, Dr. Eugster is a research associate and lecturer at the Chair of Software Engineering at the Swiss Federal Institute of Technology in Zürich, Switzerland (ETHZ).
In 2002, Dr. Eugster received the advanced researcher scholarship from the Swiss National Science Foundation and the postdoctoral researcher scholarship from the Swedish Research Council. He also received the best student paper award from USENIX and a prize of excellence for an exceptional research contribution and for an exceptional teaching contribution from EPFL.
Dr. Eugster's field of research is distributed programming: this spans areas such as (fault-tolerant) distributed algorithms, (object-oriented) programming languages and abstractions, middleware and information systems, and software engineering. Currently his primary research focus is the SCOOP (Simple Concurrent Object-Oriented Programming) project. SCOOP is a simple yet powerful mechanism for concurrent computation which is to become integrated with the Eiffel programming language. Dr. Eugster is currently working on various issues in the context of SCOOP, such as how to accommodate fault-tolerant distributed programming through inherent support for transactions.
Last Updated: Apr 5, 2017 2:32 PM