Merlin's Magical Castle Wins Idea-to-Product Top Prize
04-11-2005
Jasmine Hall, Speech Audiology student, and Alexei Czeskis, Computer Science and Mathematics student (pictured above), are members of the EPICS (Engineering Projects in Community Service) team that developed Merlin's Magical Castle (MMC). This EPICS team works in tandem with the Lafayette Adult Resource Academy (LARA).
MMC took the top prize at the Second Annual Engineering Projects in Community Service Idea-to-Product Competition at Purdue University. The competition was held April 1-2, 2005 at the Burton D. Morgan Center for Entrepreneurship in Purdue's Discovery Park. Participating teams came from Purdue, Butler University and Bedford North Lawrence High School.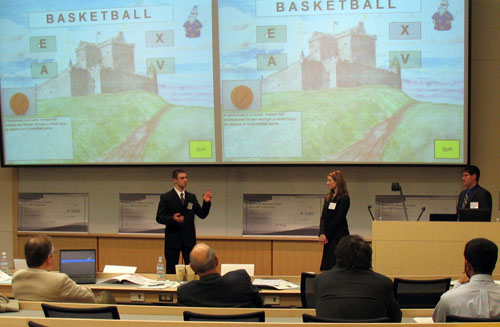 LARA Team members Alexei Czeskis and Amicia Elliott (Genetics student) presented MMC at the Idea-to-Product competition (pictured right). MMC software was developed by Harvey Chong (Computer Science), Brian Trisler (Computer Science), Patrick Daly (ECE) and Alexei Czeskis. Other LARA members include Eric Su from Computer Engineering and Sui Cheng Wong from Electrical Engineering. The MMC program is designed to help young children learn concepts through video and audio stimulation as well as physical interaction. MMC combines the power of technology and the simplicity of everyday toys through Radio Frequency Identification (RFID). When a child scans a toy the computer will identify the item via the computer chip embedded in the toy and tell the child about the toy's use and origin. MMC is primarily software based and can expand to accommodate almost any need. It can easily become bilingual or be crafted to help children with physical disabilities. MMC would be used to aid primary education programs in teaching grammar, memory, motor skills, and pattern recognition (analogies).
The LARA EPICS team is also working on a Light Circuit Board (LCB) to be used as an interactive educational game for children and the Test of Adult Basic Education Simulator (TABE) to prepare LARA learners for periodic exams.
Congratulations to the LARA EPICS team! For coverage of this event by Purdue University News, please visit: http://news.uns.purdue.edu/UNS/html3month/2005/050324.Coyle.Epics.html or http://news.uns.purdue.edu/html3month/2005/050413.Clement.epicsentre.html.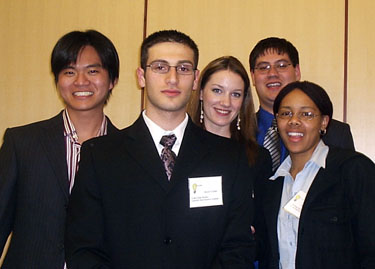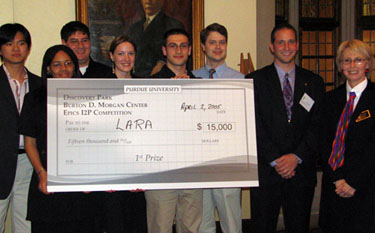 Last Updated: Apr 5, 2017 5:29 PM