Corporate Partners Program & CS Job Fair
09-09-2005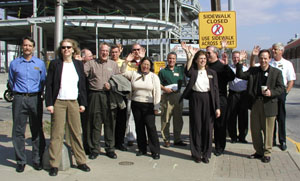 The fall 2005 Computer Science Corporate Partners Program takes place Sunday, September 18 through Tuesday, September 20, 2005. CS will kick off the program with the Undergraduate Student Mixer on Sunday night in the Purdue Memorial Union. They will open the CS Career Panel to all CS freshmen on Monday afternoon, and the CS Career Fair to all CS majors on Monday evening.
The CS Corporate Partners Program has been in existence since 1994. The program is designed to foster close communication and promote mutually beneficial relations between select companies, the Department of Computer Science and its students. The current membership list includes:
PREMIER: Cisco Systems, Eli Lilly, Guidant, Hewlett-Packard, IBM, Intel, Lockheed Martin, Microsoft, Motorola
PARTNERS: Boeing, Google, Harris, Lucent Technologies, Northrop Grumman, Raytheon Technical Services, TechPoint, Tektronix
FRIENDS: Amazon.com, Beckman Coulter, Caterpillar, Cerner, Crowe Chizek, ExxonMobil, Kimberly-Clark, Ontario Systems, Quantitative Risk Management, and State Farm Insurance.
EVENTS SCHEUDLED: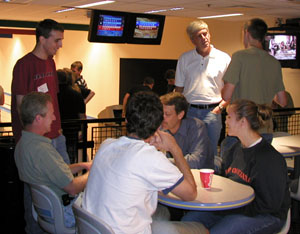 Undergraduate Student Mixer
Sunday, September 18
7:00 – 9:00 PM
Bowling/Billiards Room, Purdue Memorial Union
CS Career Panel
Monday, September 19, 2005
11:30 AM-12:30 PM (open to all CS freshmen)
West Faculty Lounge, Purdue Memorial Union
Presented by CS Corporate Partner Program members
Pizza lunch immediately following panel discussion
CS freshmen are invited to attend a panel discussion and pizza lunch. The CS Career Panel discussion will be given by representatives from Harris Corporation, Lockheed Martin, Microsoft, Motorola, Ontario Systems, Tektronics, and others. The corporate representatives will discuss the different roles computer scientists fill at their companies, how CS as a major ties into related fields, and how to begin professional development now!
CS Career Fair
(open only to CS majors and Corporate Partners)
Monday, September 19, 2005
6:00 – 9:00 PM
South Ballroom, Purdue Memorial Union
Last Updated: Apr 5, 2017 1:37 PM