13th Annual CS Awards Banquet
04-05-2005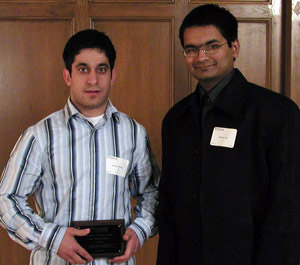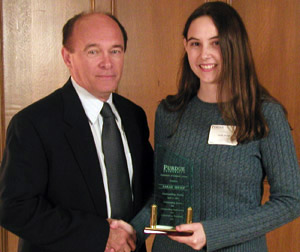 The 13th Annual Computer Science Awards Banquet held on April 4, 2005 started off a bit shaky. Keynote speaker, Steve Tolopka, found himself stranded in Portland, Oregon, and unable to attend. Steve was chosen to be the CS Keynote Speaker for his professional accomplishments, but also for his ingenuity. Steve did a complete overhaul of his presentation and enlisted Master of Ceremony, Professor Eugene Spafford, to convey his spirit and witticisms."Life Lessons from the Quote Base of Steve Tolopka" (PDF) was a hit.
Over $200,000 in new awards and the continuation of existing awards were announced. The banquet attracted an audience of over 190 corporate representatives, students, faculty, staff, and parents.
We would like to thank the following donors for their generous donations to our incoming freshman: Boeing Company ($12,000), Linnea Cook and Pieter Dykema ($2,000), Corporate Partner Program ($10,000), Dave and Darla Dodson ($8,000), Lockheed Martin ($2,000), Randy Reece ($3,500), Winifred Rosen ($10,000), and Steve and Jenny Zimmerly ($7,500).
We would also like to congratulate all awardees and thank the donors listed below.
| Company/Scholarship | Recipient |
| --- | --- |
| Baker Hill Corporation (1 award @ $1,000) | Vaibhav Sahgal |
| Cisco Systems (4 awards @ $1,000) | Jeremy Orlow, Daniel Tang, Nicolas Widman, Hananto Wijaya |
| CPP Continuing Student Scholarship (1 award @ $1,000) | Kevin Hassett |
| Crowe Chizek and Company LLC (2 awards @ $500) | Zachary Kobza, James Roberts |
| CS-EPICS Scholarship/Microsoft (5 awards @ $1,000) | Michael Armbrust, Alexei Czeskis, John Horst, Peter Morici, Ryan Rueth |
| Eli Lilly and Company (4 awards @ $2,500) | Brett Bavar (Outstanding Freshman), Maria Davis (Outstanding Sophomore), Jay Gengelbach (Outstanding Junior), Ferry Unardi (Outstanding Freshman) |
| David and Janice Fairchild Memorial for Nathaniel A. Johnson (1 award @ $1,000) | Joseph Fath |
| Guidant Foundation (1 award @ 5,000) | Bess Walker |
| Halstead Award (1 award @ $4,000) | Filip Pizlo |
| Harris Corporation (2 awards @ $750) | Jeff Seibert, Daniel Spaid |
| Hewlett-Packard (2 awards @ $500) | Bill Harris, Yen Hock Tan |
| Honeywell ($1 award @ $1,000) | Paul Marks |
| IBM (1 award @ $500) | Nathanael Logan |
| Intel Foundation (1 award @ $39,361 + a Intel Centrino worth $2,500) | Keith Frikken |
| Aaron and Morgan Kunze Scholarship (1 award @ $2,000) | Phil Harnish |
| Lighthouse Award (CS Department) | Jason Hill |
| Lockheed Martin (5 awards @ $1,000) | Kurt Ackermann, Robert Burns, Amanda Denton, Alexander Hanna, Adam Polomchak |
| Motorola (2 awards @ $500) | Christopher Isaac, John Valko |
| Neel Scholarship (Mary-Ann Neel) (1 award @ $500) | Mehmet Demirci |
| Northrop Grumman (4 awards @ $500) | Lee Ballard, Brad Gates, Jason Singer, Chris Willmore |
| Raytheon Systems (2 awards @ $1,000) | Zachary Tatlock, Bob Insley |
| Severance Endowment (R. Owen Severance) (1 award @ $1,000) | Arthur Nisnevich |
| Verizon Foundation (3 awards @ $2,000) | Abhilasha Bhargav, Hazem Diaa Eldin Elmeleegy, Sarvjeet Singh |
Last Updated: Apr 5, 2017 5:48 PM