Professor Atallah Inducted into Teaching Academy
01-31-2005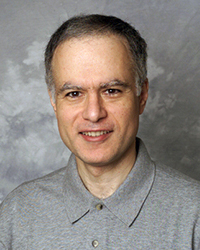 Congratulations, Professor Mikhail Atallah on the prestigious honor of being chosen a fellow of the Purdue Teaching Academy. The teaching academy brings together educational leaders from different disciplines to collaborate on educational initiates. Fellows of the academy strive to improve teaching and learning at Purdue University.
Professor Atallah has a unique teaching style that leads his students to discover concepts and ideas along with him. This approach along with Professor Atallah's enthusiasm for his field is well received by students. In a quickly changing field he challenges students to focus on the foundations of computer science and the ability to keep learning.
Professor Atallah's teaching philosophy has also been honored with his selection as one of the teachers included in Purdue's Book of Great Teachers. He was named Outstanding Teacher of the College of Science in 2004 and one of the Top Ten Outstanding Teachers in the College of Science in 1994 and 1995. Professor Atallah also received the Outstanding CS Instructor Award from the Purdue chapter of the Association for Computing Machinery.
The Annual Teaching Academy Induction Ceremony was held on Monday, January 31, 2005. Induction certificates were presented by Provost Sally Mason and the keynote address was given by Dr. George W. Hynd, Dean of the School of Education.
Last Updated: Apr 6, 2017 9:54 AM