Purdue's 2004 Computer Science Summer Camp Registration
05-03-2004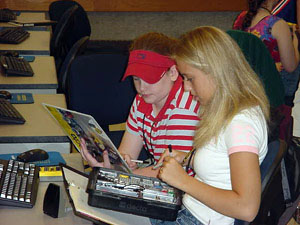 Register now for the 2004 Purdue Computer Science Summer Camp! This 4-day/3-night camp will allow campers to explore computer science through creating individual websites and building and creating robots and programs for the Lego Robotics Challenge. Plus campers will spend a fun night out at Bruno's Pizzeria followed by a movie. Purdue offers two camps to accommodate beginner campers and the more advanced campers, and, if you register by June 1st, you can save on camp fees.
Beginner Camp is open to students who are entering grades 6, 7, or 8 by fall of 2004. No previous computer science or programming expertise is necessary, but campers should be comfortable using a computer. The Beginner Camp will be held from Jun 20-23 and will focus on programming using Lego Robotics and Web page design.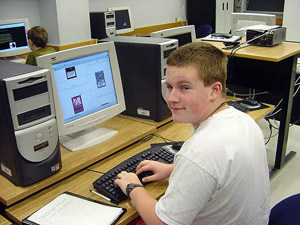 The Advanced Camp is open to students entering grades 7, 8, or 9 by fall of 2004. Students enrolling in the Advanced Camp should have attended a previous session of the Computer Science Summer Camp (2003 or prior) or have some computer programming and Web page design experience. The Advanced Camp will be held Jun 23-26 and will take a more in-depth look at Robotics and will use a team approach concept to do a Web design project. To inquire about Advanced Camp requirements, call Mindy Hart at (800) 320-6132.
Computer activities will take place in the computer labs of the Computer Science Building. These activities will be lead by Mindy Hart, Purdue University Computer Science K-12 Outreach Coordinator, and Judith Lewandowski, Assistant Professor of Instructional Technology, Indiana University South Bend. Purdue students will work with campers as lab assistants and camp counselors and 24-hour supervision will be provided by camp staff. Each camp will conclude with a recognition luncheon and project show-and-tell that family may attend for an additional cost. The 2004 Purdue Computer Science Summer Camps are sponsored by Raytheon Company and the Purdue University Department of Computer Science in partnership with Caterpillar, Lockheed Martin, Microsoft Corporation, and Motorola.
Last Updated: Apr 3, 2017 4:57 PM