Many Purdue Presentations at the International Conference on Data Engineering
03-01-2004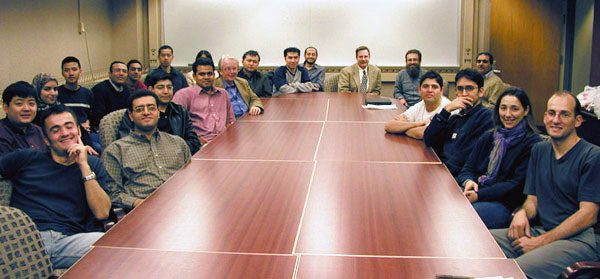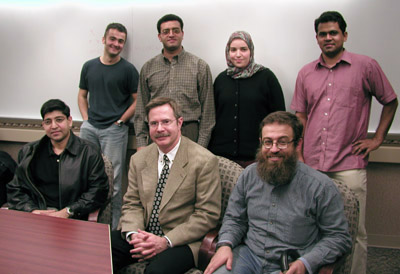 ICDE Presenters: (Front Row) Sunil Prabhakar, Jeffrey Vitter, Walid Aref, (Second Row) Radu Sion, Mohamed Mokbel, Thanaa Ghanem, and Rahul Shah.
Purdue's Computer Sciences Department was a big player in the 20th International Conference on Data Engineering (ICDE). This IEEE sponsored conference is a highly selective premier forum for presentations of research results on new and emerging data-intensive applications and advances in the area of data and knowledge engineering.
ICDE'04 was held in Boston, Massachusetts, March 30 through April 2. The organizing committee, chaired by Betty Salzberg (Northeastern University) and Mike Stonebraker (MIT), put together a program consisting of research and poster sessions, demos, industrial papers and panels. Of the 450 research papers submitted to the conference, only 63 were accepted - and five of those are authored by Purdue researchers. Purdue researchers will also give two of the 16 software presentations and make one poster presentation. Titles of the research presentations and their authors are given below.  
Papers presented by Purdue researchers:
W. Aref, T. Ghanem, M. Mokbel, R. Shah, and J. Vitter, "Bulk Operations for Space-Partitioning Trees".

W. Aref, M. Lu, and M. Mokbel, "Hash-merge Join: A Non-blocking Join algorithm for Producing Fast and Early Join Results".

W. Aref, K. El-Bassyouni (Rutgers University), I. Kamel (Panasonic), and M. Mokbel, "Scalable Multimedia Disk Scheduling".

R. Sion, "Proving Ownership over Categorical Data".

K. Lou, S. Prabhakar, and K. Ramani, "Content based Three Dimensional shape search".
Purdue demonstrations presented at the ICDE forum:
R. Sion, M. Atallah, and S. Prabhakar, "wmdb.* A Suite for Rights Protection of Numeric Relational Data".

W. Aref, A. Elmagarmid, M. Ali, A. Catlin, M. Elfeky, M. Eltabak, T. Ghanem, R. Gwadera, M. Hammad, I. Ilyas, M. Lu, M. Marzouk, M. Mokbel, and X. Xiong, "Nile: A Query Processing Engine for Data Streams".
A poster presentation with a Purdue co-author:
E. Bertino (Purdue University/University Milano), B. Catania (Universita' degli Studi di Genova), and W. Wang (National University of Singapore), "XML Join Index: Indexing XML Data for Efficient Handling of Branching Path Expressions".
Congratulations to all researchers on their success and achievements!
Last Updated: Oct 31, 2023 5:13 PM