CS Ph.D. Student Recognized as "Leading Light"
10-04-2004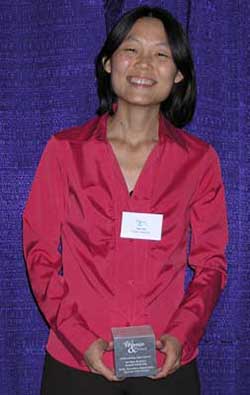 Computer Science Ph.D. student, Yuni Xia, received the Ice Miller Graduate Student Scholarship at the Women and Hi Tech Leading Light Awards Dinner on September 29, 2004.
Yuni Xia, advised by Professor Sunil Prabhakar, has over five years of experience working on database systems and pervasive computing. Her Ph.D. thesis is on efficient indexing and query techniques for databases of moving objects which is crucial for supporting location-aware services.
Yuni was one of three Purdue women recognized at the 2004 Leading Light Awards Dinner. Professor Linda Katehi, Dean of Engineering, Purdue School of Engineering, received the Distinguished Individual/Organization Dedicated to Mentoring and Growth of Women in Science Technology. Julie Conlon, Outreach Coordinator, Department of Physics, Purdue University, was also honored at the dinner with the Outstanding Science, Technology or Engineering Educator award.
Congratulations, Yuni, on your outstanding achievement!
Last Updated: Apr 3, 2017 11:59 AM