Professor Hambrusch Wins MIRA Award at the 2004 MIRA Awards Gala
05-24-2004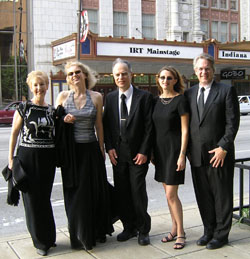 Susanne Hambrusch, Professor and Department Head of Computer Science won the prestigious TechPoint MIRA Award for Educator, Educational Program or Educational Department on May 21st at the MIRA Awards Gala. More than 500 executives, entrepreneurs and educators gathered at the MIRA Awards Gala in the Indiana Roof Ballroom in Indianapolis to celebrate Indiana's technology community and their innovations.
Since 1982, Hambrusch has taught, directed research for and interacted with literally thousands of students as faculty member, associate department head, and department head. Hambrusch earned an M.S. in Computer Science in 1977 from the Technical University of Vienna and a Ph.D. in Computer Science from Pennsylvania State University in 1982. Her research interests are in the areas of parallel and distributed computation, data management in wireless environments and analysis of algorithms.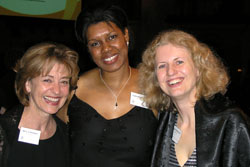 Through her career, Hambrusch has taken a thoughtful and deliberate position as a supporter of women in science and engineering. She was a critical facilitator for the establishment of the Computer Science Women's Network at Purdue, and was an initial advisor and participant in the Women in Science Mentoring Program. Professor Hambrusch also secured funding and established a Graduate Assistance in Areas of National Need Fellowship program for talented graduate students with financial needs, and recently facilitated a new course based on the use of Tablet PCs and created a new, external advisory board for the Department of Computer Science.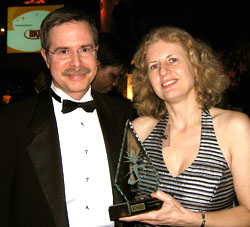 The TechPoint MIRA Award for Educator, Educational Program or Educational Department goes to an "individual, program or department associated with an Indiana higher-education institution which demonstrates excellence in the delivery or use of technology to further learning and educational achievement with demonstrated success in: educational opportunities, research, program growth, student success or outstanding leadership." As their teacher, research director, counselor, and mentor, Professor Hambrusch embodies the qualities of an outstanding advocate for students, inspiring and supporting the highest professional aspirations of each.
Congratulations Professor Hambrusch!
Purdue was well represented at the 2004 MIRA Awards Gala. In addition to Professor Hambrusch's award, the Purdue Research Park received the Professional Service Provider MIRA Award. This award goes to a company that "provides services that enable technology-based companies to succeed in their market. The winner will demonstrate quality, creativity and responsiveness in helping companies to excel." The Purdue Research Park provides an interactive environment for more than 90 high-tech companies.
Last Updated: Nov 15, 2019 11:40 AM