Outstanding CS Student Elian Haliman Wins Bruce Helfert Memorial Award
03-01-2004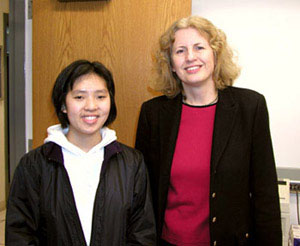 CS student, Elian Haliman is the Bruce Helfert Memorial Award winner of 2004. The Bruce Helfert Award is a university award presented to one junior in the School of Science or the Schools of Engineering who demonstrates outstanding academic achievement and an understanding of the impact of science and technology on humanity. The $1,000 award is made possible through a gift from Sylvia Helfert, in memory of her son, Bruce Helfert, a 1964 Purdue graduate. All of the candidates for the award were outstanding, but Elian rose to the top of the list.
Currently in her 6th semester, Elian is the treasurer for CSWN (Computer Science Women's Network). She is also working on a research project to integrate the technology of GPS, RFID and handheld devices (cellular phones, PDAs, Tablet PCs) into people's lives by using them to locate people, places, and information online.
Elian spent her internship in the Cummins, Inc. Engineering Information Technology (EIT) group. She was a Project Manager on her team and delivered two applications used in Cummins Engineering worldwide. Elian has worked with CS to build a PocketPC application for the K-12 outreach program, served as a TA for the CS freshman seminar, become a lab TA for freshman programming courses, and helped with Exciting Science @ Purdue.
Elian's involvement in the community includes her work with Cummins Inc. to clean used computers for donation to middle school children. She also volunteers for the Lafayette Transitional Housing to prepare food for homeless people, and she is a member of the Outdoor Activity committee of Purdue's Indonesian Student Association.
Keep up the great work, Elian!
Last Updated: Apr 4, 2017 3:42 PM