Professors Atallah and Comer Appointed as Distinguished Professors
02-06-2004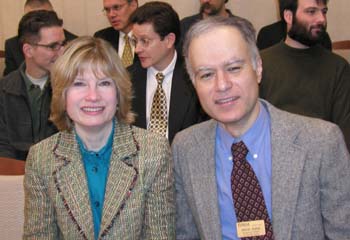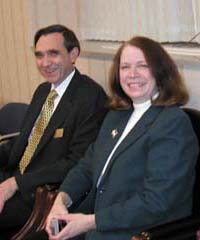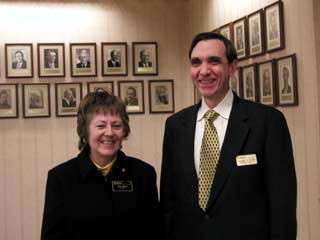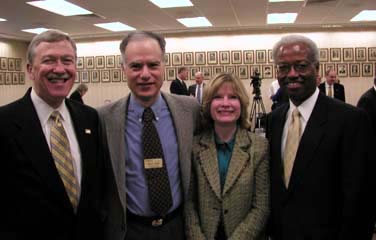 The Purdue University board of trustees today (Friday, February 6) awarded distinguished professorships to two professors of Computer Science, Dr. Mikhail Atallah and Dr. Douglas Comer.
"A distinguished professorship recognizes superior performance in teaching and research, and is the ultimate peer recognition for faculty," said Susanne Hambrusch, Professor of Computer Science and Department Head. "Prof. Atallah's and Professor Comer's careers are outstanding illustrations of the kind of individual Purdue seeks for this honor."
Mikhail ("Mike") Atallah has earned an outstanding national and international reputation for his innovative research. His work in software tamper proofing and watermarking is of significant interest in the global business community.
Atallah's research interests are in the areas of algorithm design, parallel and distributed computing, and information security. A common thread to his research is the cooperative computation by a number of communicating devices. His work has had and continues to have significant impact on the field of computing. In 2001, Atallah co-founded the start-up Arxan Technologies Inc. that has since secured two rounds of venture capital funding, and was Finalist at the Mira Awards, sponsored by TechPoint, Indiana's technology advocate organization, in 2003. In 1999, he was selected as one of Purdue's best teachers and included in Purdue's Book of Great Teachers.
Atallah did his graduate studies at the Johns Hopkins University and joined the Department of Computer Science in 1982. His current research interests are in information security, in particular, software security, secure protocols, and watermarking. He received a Presidential Young Investigator Award from the National Science Foundation in 1985. A Fellow of the IEEE, he has served on the editorial boards of top journals in the information technology field and is a frequently requested speaker at national and international conferences.
Douglas Comer is an internationally recognized expert on computer networking and the Internet. He is, perhaps, most recognized for his books on the TCP/IP protocols—the "glue" that holds the Internet together.
The author of twelve major textbooks, Comer is a pioneer in the development of curriculum and laboratories for research and education. His books have been translated into 16 languages, have sold more than 500,000 copies, are used in computer science, engineering, and business departments around the world, have shaped graduate and undergraduate curricula, and have defined how companies train their employees. His landmark three-volume series Internetworking with TCP/IP revolutionized networking and network education. In 2000, his book publisher disclosed that Comer's books were being used in courses at 15 of the most prestigious Computer Science programs.
Comer earned his Ph.D. at the Pennsylvania State University and joined the Computer Science faculty in 1976. He has created and teaches courses for a wide variety of audiences and consults for industry on the design of computer networks.
Comer's research has spanned theoretical and experimental areas. He and his students design and implement working prototypes of large, complex systems, and measure the performance of the resulting prototypes. The operating system and protocol software that has resulted from Comer's research has been used by industry in a variety of products, from laser printers to pinball machines.
Comer has served as editor-in-chief of the research journal Software-Practice and Experience. He is a fellow of the ACM and is the recipient of numerous teaching awards. He is included in Purdue's Book of Great Teachers, a Fellow of Purdue's Teaching Academy, and the recipient of a USENIX Lifetime Achievement award.
Last Updated: Nov 15, 2019 11:37 AM