Dr. David Schrader, 2004 Computer Science Distinguished Alumnus
04-23-2004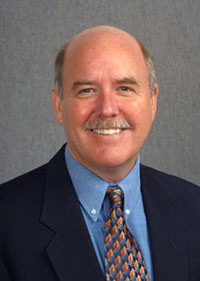 David K. Schrader, Ph.D. 1983
The 2004 Computer Science Distinguished Alumnus
Lead Strategist & Marketing Director for Teradata Applications Solutions Group
On April 15th, the Computer Science department greeted their Distinguished Alumnus, Dr. David Schrader, with a reception in the hallways of the CS building. This welcome was the beginning of his two-day stay on campus which included a campus tour aboard the Boilermaker Special, meeting new faces and saying hello to familiar ones, and having breakfast with Dean Vitter. He wrapped up his visit the evening of April 16th with the Dean's Distinguished Alumni Awards Dinner where he received his 2004 Computer Science Distinguished Alumnus award. And, of course, this wirlwind of events would not have been complete without Dr. Schrader's riveting talk, "Adventures in Computer Science: How the Rubber Hits the Road."
His fast-paced talk described how a boy from Prairieville, Illinois armed with a Ph.D. in CS from Purdue embarked on a Trip through Life that began at an adventurous and exotic database startup (GemStone), then traveled to a large but now defunct industry giant (DEC), followed by a side path to another startup (Teradata) eaten by another big company (NCR), part of a conglomerate (AT&T). The talk was littered with stories about Purdue student life, the faculty, interesting characters met along his way, projects from Hell, TV and radio gigs on Spamorama, how to reinvent and rebrand yourself, as well as lessons learned from the vaunted Real World. It was not your father's kind of talk!
David Schrader is the lead Strategist and one of the Marketing Directors for the Teradata Applications Solutions group, which includes CRM, E-Business, and Profitability Analytics, as well as Financial Management. He focuses on market micro-segmentations, preliminary business plans, briefings for early adopting customers, and identification of new application business opportunities. He has been instrumental in the development of several of Teradata's offers, and was the marketing liaison for the Teradata-BroadVision relationship to foster Moment-to-Moment Marketing. Dr. Schrader is a frequent speaker at industry and technology conferences, and is also a popular speaker at NCR's Partners and User Group forums. As one of Teradata's "thoughtware" leaders, he regularly gives talks on how people could better use technology for customers, and have given invited lectures at MBA programs like Duke, the Wharton School at Penn, USC, and UCLA. He serves on the Board of Councilors for the Integrated Media Systems Center at the University of Southern California and is also on their Scientific Advisory Board, He is a trustee of the Marketing Sciences Institute, and is a board member of TierFleet, a data appliance startup company.
While at Purdue, David's advisor was P.J. Denning. His thesis was titled "Concurrency Control in Distributed Ring Computer Systems".
Last Updated: Apr 4, 2017 9:39 AM