CS Building Named for Richard and Patricia Lawson
10-18-2004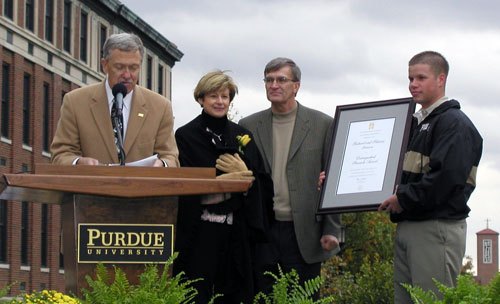 President Jischke presents the Lawsons with the Purdue Pinnacle Award.
The future Computer Science building will be named for lead donors Richard and Patricia (Pat) Lawson. Purdue University President Martin Jischke announced the building name on October 16, 2004 as part of a special Homecoming celebration. A ceremony was held in recognition of Richard and Pat's gift to the university and to present them with a Purdue Pinnacle Award. The Pinnacle Award is the highest honor the President's Council bestows upon a donor.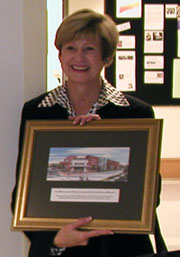 The Lawson's October 15th Homecoming began with a review of the building construction plans with CS Administration. Afterwards the CS Department held a reception in their honor where they were presented an artist rendering of the future building and a glimpse of the preliminary stage of the building construction. That evening Richard and Pat accompanied Grand Marshall, Gene Keady, in the Boilermaker Special for the Homecoming Parade.
Homecoming festivities continued on Saturday with the Pinnacle Award ceremony beginning at 2:30 on the Homecoming stage. Then as special guests of the president, the Lawsons slipped into their black and gold to cheer on the Boilermakers at the Purdue vs. Wisconsin game.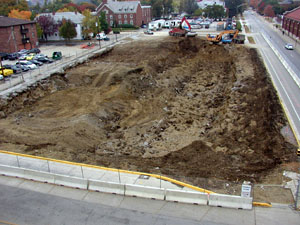 Richard Lawson, a key executive in the software industry who received his master's degree in computer science from Purdue in 1968, said he hopes the facility will prepare students for any number of careers.
"Computers and information technology have permeated all of our lives and will continue to do so, especially as we enter the 'global' world,'" he said. "From entertainment to business to maintaining relationships, the knowledge of computers and information technology is critical. I hope the new building will attract students to study computer science by creating an appealing environment for study."
Richard Lawson received his undergraduate degree in mathematics at Oklahoma Christian College in 1966. Pat Lawson, then Pat Davidson, graduated from the same college in 1967 with a degree in primary education. The two married in 1967 while Richard pursued his master's degree in Computer Science at Purdue. In 1975 Richard founded Lawson Software, and the company began marketing "enterprise resource planning" software packages – programs that automate such back-room operations as billing and materials management – to small and midsize companies. Lawson Software now has more than 2,000 employees and 3,000 client firms, drawn largely from the health care, retail and professional services industries.
For a complete version of this story please visit http://news.uns.purdue.edu/UNS/html3month/2004/041016.Lawson.building.html.
Thank you Richard and Pat for your generosity and support in CS's quest to advance the frontiers of computer science!

Last Updated: Apr 3, 2017 11:51 AM