Professors Spafford and Bertino Celebrate New Positions at CERIAS
02-04-2004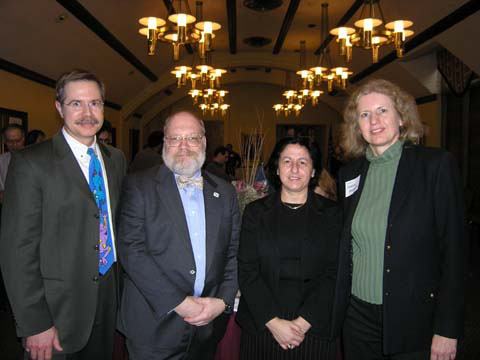 Dean Jeff Vitter (left) and Department Head Susanne Hambrusch (right) celebrate with Professor Eugene Spafford and Professor Elisa Bertino at the Purdue Memorial Union East/West Faculty Lounge.
Faculty and staff from around the University gathered at the East/West Faculty Lounge in the Purdue Memorial Union to honor Purdue newcomer Elisa Bertino and CERIAS founder Eugene Spafford.
Purdue welcomed Elisa Bertino with a reception on February 2nd at the East/West Faculty Lounge. Professor Bertino joins Purdue as a Professor of Computer Science and Director of Research for CERIAS. Professor Bertino holds a Ph.D. in Computer Science from the University of Pisa, Italy.
Eugene Spafford was honored at the same reception for his appointment as Executive Director of the Center for Education and Research in Information Assurance and Security (CERIAS). Professor Spafford is also a senior advisor to the Assistant Director of CISE at the National Science Foundation for the current acedemic year.
Congratulations Professor Bertino and Professor Spafford!
Last Updated: Apr 4, 2017 4:27 PM