The 2003 Computer Science Distinguished Alumna
03-31-2003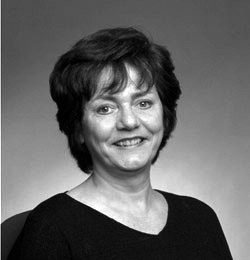 Presentation by Beatrice Yormark, M.S. 1968
The 2003 Computer Science Distinguished Alumna
President and COO, Echelon Corporation
Friday, April 25th
2:30-3:30 pm in CS 111
Ms. Yormark joined Echelon from Connect, Inc., an on-line information services company, where she was the company's chief operating officer. Before joining Connect, Ms. Yormark held a variety of positions, including executive director of systems engineering for Telaction Corporation, director in the role of partner at Coopers & Lybrand, vice president of sales at INTERACTIVE Systems Corporation, and various staff positions at the Rand Corporation. Ms. Yormark spent one year teaching computer science at Purdue University, following the completion of her MS degree in computer science in 1968. In addition to her graduate degree, Ms. Yormark has a BS degree in mathematics from City College of New York.
Echelon Corporation
Echelon is the leading supplier of infrastructure hardware and software to the rapidly growing device networking market. Since 1988, Echelon's solution—the LonWorks system—has been adopted by thousands of device and system manufacturers. Millions of connected LonWorks devices have been installed into buildings, factories, transportation systems, homes, utilities, and hundreds of other applications worldwide.
Echelon device networking technology enables end-users to remotely connect, monitor, control, and diagnose intelligent devices. Whether opening and closing an elevator door in an office building, or collecting energy use data from a factory floor via the Internet, Echelon's products and services enable you to manage every aspect of your device networking environment.
Today, LonWorks networks are the leading de facto standard for networking everyday devices. Our solution is recognized by standards organizations around the globe -- including AAR, ANSI, ASHRAE, IEEE, IFSF, and SEMI -- for networking systems in homes, trains, semiconductor fabrication equipment, intelligent buildings, gas stations and freight train braking systems.
Echelon supplies over 90 products to original equipment manufacturers (OEMs) and systems integrators from its offices in the United States, United Kingdom, China, Japan, Germany, France, South Korea and The Netherlands and channel partners throughout the Americas, Asia, and Europe. Echelon is publicly traded on the NASDAQ market under the symbol ELON.
Last Updated: Mar 30, 2017 5:01 PM