2011 Outstanding CS Alumni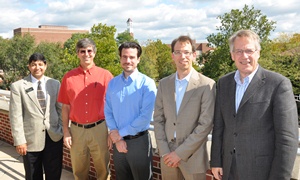 The Department of Computer Science and the College of Science recognized the 2011 Computer Science Outstanding Alumni on Friday, September 30. Alumni John Riedl (MS '85, PhD '90), Ian Murdock (BS '96), and Bryn Dole (MS '96) were joined by faculty, staff, and students for an awards presentation and reception in celebration of their great achievements.
John Riedl:
John Riedl has been a Professor in the Computer Science and Engineering Department at the University of Minnesota since 1990. Professor Riedl's research is in intelligent user interfaces for the social web. His GroupLens research group seeks to develop tools that make our collaborations on the social web even more pleasant and fruitful. GroupLens has a strong tradition of developing recommender systems that help people find the information, products, and other relationships they seek. In 2009, Professor Riedl was elected Fellow of the ACM, and won Best Paper awards at the IUI and WikiSym Conferences. In 2008, he was named an ACM Distinguished Scientist. In 2006, he was named a Senior Member of the IEEE and won a Best Paper Award at the Computer Supported Cooperative Work (CSCW) Conference. Riedl has also received the MIT Sloan School Award for Innovation in E-Commerce, and the George Taylor Award for Exceptional Contributions to Teaching.
Riedl received a Bachelor of Science degree in Mathematics from the University of Notre Dame in 1983. At Purdue University, he earned a Master of Science degree in Computer Science in 1985 and a PhD in Computer Science in 1990.
Ian Murdock:
Ian Murdock is Vice President of Platform at ExactTarget, a leading global provider of on-demand email marketing and interactive marketing solutions. Previously, Murdock held a variety of roles at Sun Microsystems, including Vice President of Developer and Community, where he was responsible for Sun's developer strategy, marketing, and programs; and Chief OS Strategist, where he launched Project Indiana, the effort designed to lower barriers to adoption for the Solaris platform. Prior to joining Sun, Murdock was Chief Technology Officer of the Linux Foundation and co-founder of Progeny, a provider of custom Linux platform technology.
A longtime Linux user, developer, and advocate, Murdock founded the Debian project in 1993. Today, Debian is one of the most popular Linux distributions, with millions of users worldwide. Debian is also widely considered one of the most successful and influential open-source projects ever launched: more than 1,000 volunteers in all parts of the world are currently involved in Debian development, and the founding document of the open source movement itself was originally a Debian position statement. Ian was also a founding director of the Open Source Initiative (1998-2001).
Murdock graduated from Purdue University in 1996 with a Bachelor of Science degree in Comptuer Science.
Bryn Dole:
Bryn Dole has been founding and working at tech startups since 1998.
Dole is currently working at Blekko, a search engine startup that he helped co-found. Blekko, based in Redwood City, California, is a spam-free web search engine that uses human-curated slashtags to improve search relevance. Slashtags are sets of topical websites that allow search queries to be limited to high-quality, spam-free results.
Prior to Blekko, Dole co-founded Topix, an online news and community website. In 2005, Topix sold a 75% stake to a trio of media companies: Gannett, Knight-Ridder, and the Tribune Company. Dole held the title VP of Technology and, in the website's early years, the title of CFO.
In 1998, Dole co-founded GnuHoo, which, after being acquired by Netscape, became known as the Open Directory Project (ODP). The ODP is an open, community based web directory, whose data is available under an open content license - the first of its kind. Dole wrote the search engine for the Open Directory Project that, in 1999, powered Netscape's search.
Dole received a BS in Computer Science and Math from the University of Illinois at Urbana-Champaign in 1993, receiving departmental honors and induction into Phi Beta Kappa.
Dole graduated from Purdue University in 1996 with a Master of Science degree in Computer Science. While at Purdue, he worked with Dr. Eugene Spafford in the COAST lab, the predecessor of CERIAS. While at Purdue, Dole and Steve Lodin published a paper revealing a weakness they had discovered in the Kerberos Version 4 session keys. Bryn also served as president of the Purdue student chapter of the ACM and vice president of the Upsilon Pi Epsilon honor society.
Last Updated: Apr 2, 2021 10:50 AM