2022 Alumnus Award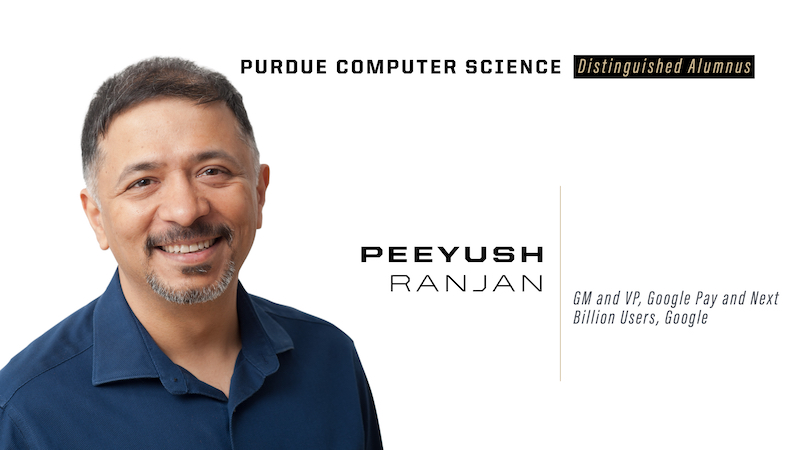 Join us for a reception and talk to honor Peeyush Ranjan, 2022 Distinguished Alumnus in Computer Science. 
Fri Apr 8 | 2:30pm | LWSN 3102

Distinguished Alumni Award

The Distinguished Alumni Award is awarded to exceptional alumni who provide significant leadership within their chosen field as well as noteworthy professional accomplishments that reflect favorably on their profession, the College of Science, Purdue University and society. The award recipients represent the very best of our alumni and we are honored to celebrate their significant achievements in the field and around the world.
The 2022 Distinguished Alumni Award recipient is Peeyush Ranjan.
Ranjan is the General Manager for consumer payment products (Google Pay) and Next Billion Users (NBU) at Google. 
He has shaped the growth and evolution of Google Pay in India, Singapore and the US and has played a key role in leading the expansion in other international markets. As part of Google's NBU initiative he has led engineering teams that have seen the launch of successful products in emerging markets such as CameraGo which is now integrated into Jio phones in India and Files which has hundreds of millions of users around the world.
Before his role in payments and NBU, Ranjan has also led various engineering teams in Google's Mobile, Enterprise, and Search efforts and worked on critical initiatives such as Google Workspace, Progressive Web App and smart phones like Moto G. 
Prior to Google, Ranjan held various positions leading large, global engineering teams at Airbnb and Flipka. He holds a BS from IIT Kharagpur and an MS from Purdue University in computer science and MBA from the University of Washington.
The College of Science recognizes Ranjan as a Distinguished Alumni honored for his global impact and pursuit of growth and expansion in the profession.
Last Updated: Apr 6, 2023 2:24 PM