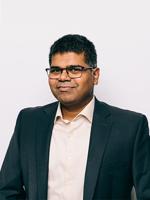 Aniket Kate
Assistant Professor of Computer Science
Joined department: Fall 2015
Prof. Aniket Kate designs, implements, and analyzes accountability, transparency and privacy enhancing technologies. His research integrates cryptography, distributed systems, and hardware-assisted security. Along with producing theoretically elegant results, he and his team of excellent students endeavor to make them useful in real-world scenarios.
Before joining Purdue in 2015, Prof. Kate was a junior faculty member and an independent research group leader at Saarland University in Germany, where he was heading the Cryptographic Systems Research Group. He was a postdoctoral researcher at Max Planck Institute for Software Systems (MPI-SWS), Germany for 2010 until 2012, and he received his PhD from the University of Waterloo, Canada in 2010.
Selected Publications
P2P Mixing and Unlinkable Bitcoin Transactions: Anonymity of the people, by the people, and for the people: Tim Ruffing, Pedro Moreno-Sanchez, and Aniket Kate. Network and Distributed System Security Symposium (NDSS 2017), February 2017.
Liar, Liar, Coins on Fire! -- Penalizing Equivocation By Loss of Bitcoins: Tim Ruffing, Aniket Kate, and Dominique Schroeder. 22nd ACM Conference on Computer and Communications Security (CCS 2015), October 2015.
(Nothing else) MATor(s): Monitoring the Anonymity of Tor's Path Selection: Michael Backes, Aniket Kate, Sebastian Meiser, and Esfandiar Mohammadi. 21st ACM Conference on Computer and Communications Security (CCS 2014), November 2014.
Asynchronous MPC with a Strict Honest Majority Using Non-equivocation: Michael Backes, Fabian Bendun, Ashish Choudhury, and Aniket Kate. 33rd ACM Symposium on Principles of Distributed Computing (PODC 2014), July 2014.