Dongyan Xu
Samuel D. Conte Professor of Computer Science

---
Address

Purdue University
Department of Computer Science
305 N. University Street
West Lafayette, Indiana, 47907-2107
Office Phone: +1 765-494-6182
FAX:          +1 765-494-0739
	
Postdoc Positions Available: Two Postdoc positions are available in my lab, in the (broadly defined) areas of cyber-physical security and software security. If interested please drop me an email with your CV. Thank you.
---
Welcome to Dongyan Xu's home page. I am a Samuel D. Conte Professor of Computer Science at Purdue University, where I joined in 2001 as an assistant professor. I received my Ph.D. in Computer Science from the University of Illinois at Urbana-Champaign, under the direction of Professor Klara Nahrstedt. I am a recipient of six Seed for Success Awards from Purdue University, a CAREER Award from NSF, seven Best Paper/Student Paper Awards from RAID'08, SOCC'11, ASE'13, USENIX Security'14, CCS'15, NDSS'16, and USENIX Security'17. I was a Purdue University Faculty Scholar from 2012 to 2017. I received the College of Science Undergraduate Advising (2008), Graduate Advising (2014), Leadership (2013, 2016), Research (2015), and Team (2015, 2017) Awards.
I am the Director of CERIAS, Purdue's cybersecurity research and education center.
The three components of my professional life:
Research:
Current interests: computer systems security, malware defense and forensics, cloud computing, and virtualization technologies.
Group: Lab FRIENDS (Lab For Research In Emerging Network & Distributed Systems)
Affiliation: CERIAS.
Sponsors (past and present): AFOSR, AFRL, CERDEC, DARPA, IARPA, NSA, NSF, ONR, Sandia National Labs, Cisco Systems, DOCOMO USA Labs, ETRI, Microsoft Research, Northrop Grumman, Southwest Research Institute, Vencore Labs (ACS), Purdue Research Foundation.
Teaching:
On sabbatical (Fall 2008)
CS590C - Virtual Networked Computing (Spring 2005)
Service:
Interim Director, CERIAS, 7/2016 - 8/2018.
Assistant Director, CERIAS, 2011 - 2013.
Associate Editor, ACM Transactions on Autonomous and Adaptive Systems, 2011 - 2015.
Associate Editor, Cluster Computing Journal, 2007 - 2015.
Panelist, NSF proposal review panels, 2005, 2006, 2007, 2008, 2009, 2010, 2011, 2012, 2014, 2015.
TPC Member, IEEE Symposium on Security and Privacy (S&P), 2010, 2015.
TPC Member, USENIX Security Symposium 2018.
TPC Member, ISOC NDSS 2006, 2012, 2013, 2014, 2015, 2017, 2018, 2019 (co-chair), 2020 (co-chair).
TPC Member, ACM Conf. on Computer and Communications Security (CCS) 2013, 2016, 2017 (co-chair).
TPC Member, DIMVA 2011.
TPC, USENIX HotCloud 2009, 2010 (co-Chair), 2013, 2014.
TPC Member, IEEE/ACM Supercomputing (SC) 2005, 2006, 2007, 2008, 2013.
TPC Member, ACM/IEEE ICAC 2005, 2006, 2007, 2008, 2009, 2010, 2011, 2012 (co-Chair), 2015.
Co-Chair, ACM NOSSDAV 2009, Williamsburg, VA, 2009.
TPC Member, RAID 2009, 2012, 2015, 2016.
TPC Member, SecureComm 2009, Athens, Greece, 2009, 2015.
TPC Member, ACM CCS Workshop on Scalable Trusted Computing, Fairfax, VA, 2006.
TPC Member, ACM SIGCOMM Workshop on Large-Scale Attack Defense, Pisa, Italy, 2006.
In Memoriam: Saburo Muroga (1925-2009)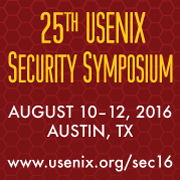 This page last modified .