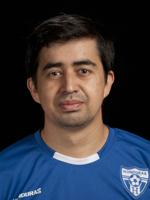 Servio Ernesto Palacios Interiano
Graduate Student
Joined department: Fall 2013
Education
Master of Science, Purdue University, Computer Science (2015)
Master Degree, Foro Europeo de Navarra, Spain, Information Security (2009)
Bachelor Degree, UNITEC, Tegucigalpa, Honduras, Computer Science (2001)
Servio Palacios is a Fulbright Scholar and a Ph.D. candidate with the Department of Computer Science at Purdue University. His research interests include graph theory, graph databases, distributed computing, edge computing, applied cryptography, and information security.
Selected Publications
Palacios S. et al. (2019) WIP - SKOD: A Framework for Situational Knowledge on Demand. In: Gadepally V. et al. (eds) Heterogeneous Data Management, Polystores, and Analytics for Healthcare. DMAH 2019, Poly 2019. Lecture Notes in Computer Science, vol 11721. Springer, Cham. https://doi.org/10.1007/978-3-...